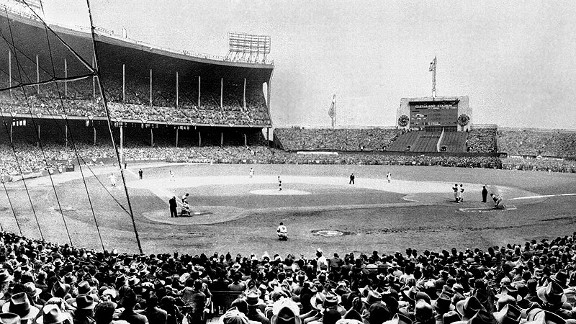 AP Photo
Cleveland (AL) 4, Boston (NL) 2
Game Scores:
BOS 1, CLE 0 @ BOS
CLE 4, BOS 1 @ BOS
CLE 2, BOS 0 @ CLE
CLE 2, BOS 1 @ CLE
BOS 11, CLE 5 @ CLE
CLE 4, BOS 3 @ BOS

Why the Indians won: While Bob Feller struggled, the other three starters, Bob Lemon, Gene Bearden and Steve Gromek, picked up the slack, accounting for all four wins with a combined 1.00 ERA.
Why the Braves lost: Beating Feller twice, the first time on Johnny Sain's brilliant Game 1 shutout, went for naught, as the Braves dropped four of the final five games, scoring only five runs in the four losses.
Memorable moment: In Game 1, Feller had pinch-runner Phil Masi picked off at second base; Masi was called safe. Tommy Holmes then singled home Masi for the only run.
Key stat: 86,288. The Game 5 attendance at Cleveland Stadium, the most ever for a World Series game.