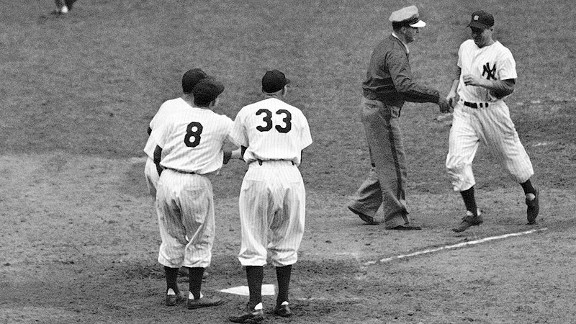 AP Photo
New York (AL) 4, Brooklyn (NL) 1
Game Scores:
NYY 1, BRO 0 @ NYY
BRO 1, NYY 0 @ NYY
NYY 4, BRO 3 @ BRO
NYY 6, BRO 4 @ BRO
NYY 10, BRO 6 @ BRO

Why the Yankees won: Third baseman Bobby Brown was the Yankees' chief bomber; he pounded the Dodgers over the final two games, going 5-for-7 with five RBIs.
Why the Dodgers lost: With the series tied, Ralph Branca's ninth-inning meltdown in Game 3 proved critical for the Dodgers, whose starters in Games 4 and 5 didn't last past the fourth inning.
Memorable moment: In Game 1, Tommy Henrich's walk-off homer beat the Dodgers' Don Newcombe and ended his scoreless duel with Allie Reynolds.
Key stat: 11. The number of strikeouts for Newcombe in Game 1, tying the single-game record for a losing pitcher.