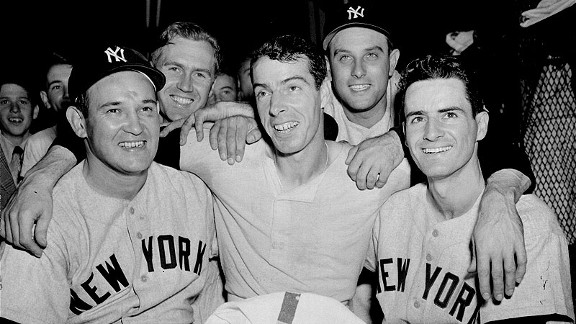 AP Photo
New York (AL) 4, Philadelphia (NL) 0
Game Scores:
NYY 1, PHI 0 @ PHI
NYY 2, PHI 1 @ PHI
NYY 3, PHI 2 @ NYY
NYY 5, PHI 2 @ NYY

Why the Yankees won: Very little offensive support was needed since the rotation allowed only three earned runs over the four games.
Why the Phillies lost: Other than Granny Hamner (6-for-14), the Phillies' hitters posed no threat; Del Ennis and Willie Jones, who'd combined for 214 RBIs during the season, had zero in the series.
Memorable moment: In Game 2, Joe DiMaggio made an outstanding running catch on Del Ennis' deep fly near the 400-foot marker in right-center field at Shibe Park.
Key stat: 21. The age of Yankees lefty Whitey Ford, who made his Series debut with a winning effort in Game 4.