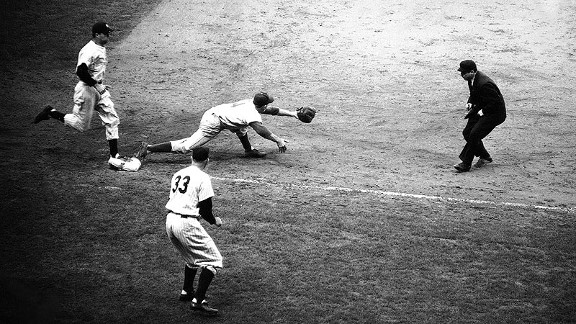 AP Photo/John Lindsay
New York (AL) 4, Brooklyn (NL) 3
Game Scores:
BRO 4, NYY 2 @ BRO
NYY 7, BRO 1 @ BRO
BRO 5, NYY 3 @ NYY
NYY 2, BRO 0 @ NYY
BRO 6, NYY 5 @ NYY
NYY 3, BRO 2 @ BRO
NYY 4, BRO 2 @ BRO

Why the Yankees won: Mickey Mantle (.345, 1.061 OPS) had a great Fall Classic, but 39-year-old Johnny Mize, who'd hit only four HRs in 78 games, was 6-for-15 (.400) with three home runs.
Why the Dodgers lost: They returned to Ebbets Field with a 3-2 lead, but several failed offensive chances over the final two games led to their demise.
Memorable moment: With the bases loaded late in Game 7, Yankees second baseman Billy Martin hustled to catch Jackie Robinson's infield popup only inches off the ground to preserve a 4-2 lead.
Key stat: 21. The number of at-bats for the Dodgers' Gil Hodges, who went hitless for the Series.