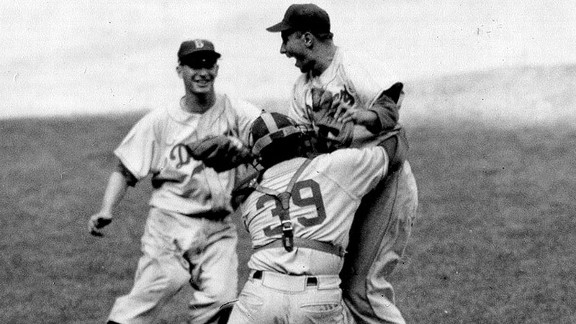 AP Photo
Brooklyn (NL) 4, New York (AL) 3
Game Scores:
NYY 6, BRO 5 @ NYY
NYY 4, BRO 2 @ NYY
BRO 8, NYY 3 @ BRO
BRO 8, NYY 5 @ BRO
BRO 5, NYY 3 @ BRO
NYY 5, BRO 1 @ NYY
BRO 2, NYY 0 @ NYY
MVP:
Johnny Podres

Why the Dodgers won: Left-hander Johnny Podres became the first-ever WS MVP with two complete-game victories, including a Game 7 shutout.
Why the Yankees lost: After taking a 2-0 lead at home, they lost all three games at Ebbets Field behind poor efforts from starters Bob Turley, Don Larsen and Bob Grim (combined 10.33 ERA).
Memorable moment: In Game 7, Sandy Amoros robbed Yogi Berra with a game-saving catch down the left-field line, starting a double play that killed the Yankees' best chance.
Key stat: 4. The number of home runs hit by Duke Snider. He is the only player to hit four in two separate Fall Classics.