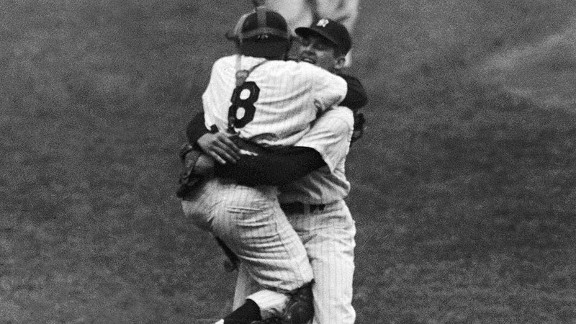 AP Photo
New York (AL) 4, Brooklyn (NL) 3
Game Scores:
BRO 6, NYY 3 @ BRO
BRO 13, NYY 8 @ BRO
NYY 5, BRO 3 @ NYY
NYY 6, BRO 2 @ NYY
NYY 2, BRO 0 @ NYY
BRO 1, NYY 0 @ BRO
NYY 9, BRO 0 @ BRO
MVP:
Don Larsen
Why the Yankees won: They clubbed 12 home runs, getting three apiece from Yogi Berra (10 RBIs, 1.248 OPS) and Mickey Mantle (1.067 OPS).
Why the Dodgers lost: They copied the Yankees' script from 1955, winning the first two at home and dropping the next three on the road. Yankees HRs, led by Enos Slaughter's three-run shot in Game 3, proved fatal.
Memorable moment: Don Larsen's perfect game in Game 5 still stands as the greatest game ever pitched.
Key stat: 5. The number of complete games thrown consecutively by Yankees pitches (Games 3-7).