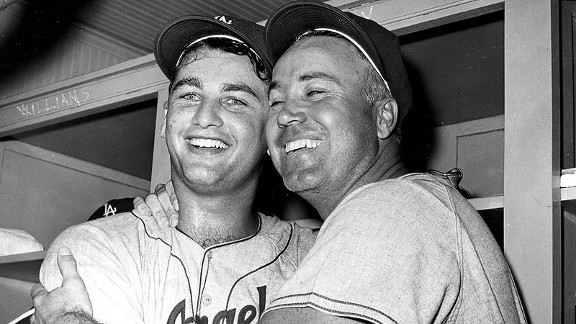 AP Photo
Los Angeles (NL) 4, Chicago (AL) 2
Game Scores:
CHW 11, LAD 0 @ CHW
LAD 4, CHW 3 @ CHW
LAD 3, CHW 1 @ LAD
LAD 5, CHW 4 @ LAD
CHW 1, LAD 0 @ LAD
LAD 9, CHW 3 @ CHW
MVP:
Larry Sherry

Why the Dodgers won: Larry Sherry was brilliant in high-pressure relief, figuring in the decision in all four victories with two wins and a pair of saves.
Why the White Sox lost: Manager Al Lopez didn't start Sox veteran Billy Pierce at all but started 39-year-old ace Early Wynn on short rest in Game 6. Wynn took the loss.
Memorable moment: The first pitch of Game 3 marked the start of the first Series game to be played west of St. Louis.
Key stat: 2. Chuck Essegian hit just one homer for the Dodgers in '59 but hit two as a pinch-hitter to set a WS record.