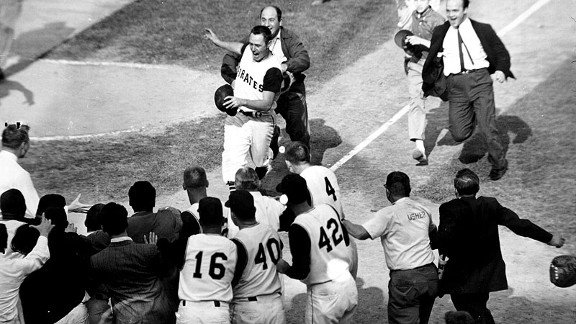 AP Photo/Harry Harris
Pittsburgh (NL) 4, New York (AL) 3
Game Scores:
PIT 6, NYY 4 @ PIT
NYY 16, PIT 3 @ PIT
NYY 10, PIT 0 @ NYY
PIT 3, NYY 2 @ NYY
PIT 5, NYY 2 @ NYY
NYY 12, PIT 0 @ PIT
PIT 10, NYY 9 @ PIT
MVP:
Bobby Richardson

Why the Pirates won: They won all the close games, so the margin in the routs didn't matter.
Why the Yankees lost: Whitey Ford didn't start Game 1 for the only time in his last nine WS. Casey Stengel tabbed him for Games 3 & 6; he threw two shutouts instead of starting three times.
Memorable moment: Bill Mazeroski's walkoff HR in Game 7, the first time a HR ended a World Series.
Key stat: 3/38 vs. 24/17, the RS/RA splits in the Pirates three losses and four wins.