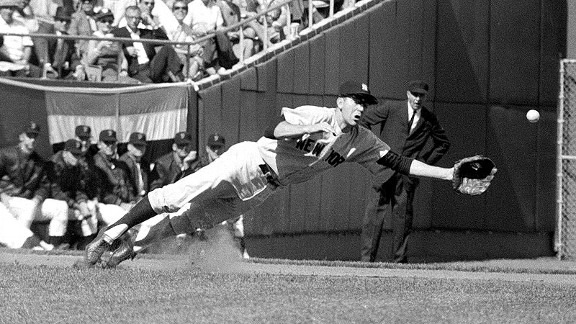 Herb Scharfman/Sports Imagery/Getty Images
New York (AL) 4, San Francisco (NL) 3
Game Scores:
NYY 6, SFG 2 @ SFG
SFG 2, NYY 0 @ SFG
NYY 3, SFG 2 @ NYY
SFG 7, NYY 3 @ NYY
NYY 5, SFG 3 @ NYY
SFG 5, NYY 2 @ SFG
NYY 1, SFG 0 @ SFG
MVP:
Ralph Terry

Why the Yankees won: Rain delays that affects Games 5-7 allowed them to start their best starters, Whitey Ford and Ralph Terry, six times combined.
Why the Giants lost: Willie Mays, Orlando Cepeda and Felipe Alou had combined for 109 homers during the season but hit none in the WS.
Memorable moment: In the bottom of the ninth of Game 7, Terry completed his shutout when he got Willie McCovey to line out with two runners on.
Key stat: 20. The title gave the Yankees their 20th WS win in 40 years.