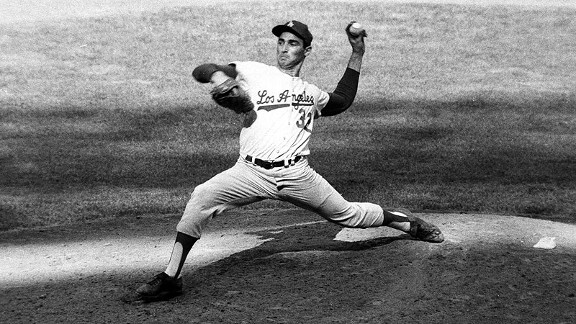 Herb Scharfman/Sports Imagery/Getty Images
Los Angeles (NL) 4, New York (AL) 0
Game Scores:
LAD 5, NYY 2 @ NYY
LAD 4, NYY 1 @ NYY
LAD 1, NYY 0 @ LAD
LAD 2, NYY 1 @ LAD
MVP:
Sandy Koufax

Why the Dodgers won: Two-fisted ace action, as Sandy Koufax was dominant in Games 1 & 4 while Don Drysdale pitched a three-hit shutout in Game 3.
Why the Yankees lost: Can't win if you don't score, and the Yankees' four runs were the lowest team mark since the A's three in 1905.
Memorable moment: In the bottom of the seventh and Game 4 tied 1-1, L.A.'s Jim Gilliam grounded to third but 1B Joe Pepitone lost the throw in a sea of white shirts; Gilliam sped to third and scored on a sacrifice fly.
Key stat: 15. The WS-record number of strikeouts Koufax dished out to the Yankees in Game 1.