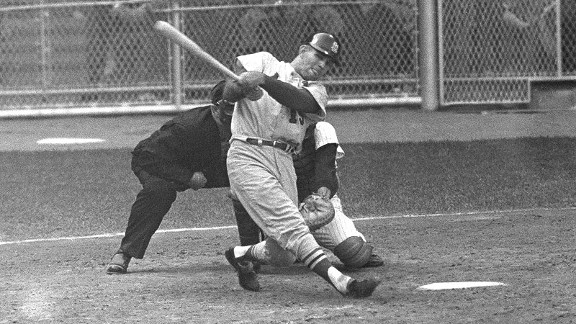 AP Photo
St. Louis (NL) 4, New York (AL) 3
Game Scores:
STL 9, NYY 5 @ STL
NYY 8, STL 3 @ STL
NYY 2, STL 1 @ NYY
STL 4, NYY 3 @ NYY
STL 5, NYY 2 @ NYY
NYY 6, STL 3 @ STL
STL 7, NYY 5 @ STL
MVP:
Bob Gibson

Why the Cardinals won: Bob Gibson launched his World Series legend by throwing a 10-inning CG in Game 5, then starting and winning Game 7 on two days' rest.
Why the Yankees lost: Age and defense. Whitey Ford's shoulder couldn't hold up after taking a beating in Game 1, and Mickey Mantle and Bobby Richardson had lost critical steps afield.
Memorable moment: With the bases loaded in the sixth inning of Game 4, Ken Boyer anticipated a high Al Downing changeup and hit a grand slam to help even the series..
Key stat: 18. Mickey Mantle's career WS home run total; he hit three in the series, including a walk-off shot in Game 3.