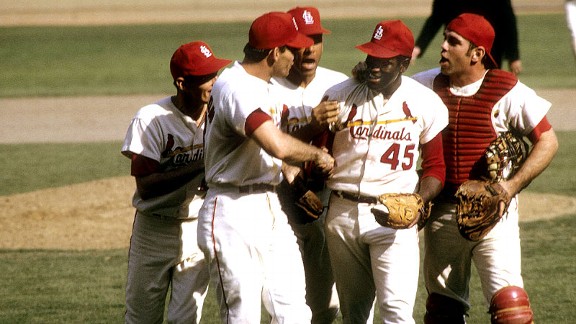 Focus On Sport/Getty Images
St. Louis (NL) 4, Boston (AL) 3
Game Scores:
STL 2, BOS 1 @ BOS
BOS 5, STL 0 @ BOS
STL 5, BOS 2 @ STL
STL 6, BOS 0 @ STL
BOS 3, STL 1 @ STL
BOS 8, STL 4 @ BOS
STL 7, BOS 2 @ BOS
MVP:
Bob Gibson

Why the Cardinals won: Bob Gibson started three games and completed and won all three, striking out 26 in his 27 innings.
Why the Red Sox lost: Using ace Jim Lonborg on the last day of the regular season to help clinch pushed him back to Game 2. He won his first two starts, but having to pitch Game 7 on short rest, Lonborg couldn't match Gibson.
Memorable moment: Facing elimination in Game 5, Elston Howard delivered a bases-loaded RBI single in the top of the ninth with a second run coming home on Roger Maris' overthrow of home.
Key stat: 14. The number of hits Gibson gave up while pitching his three complete games.