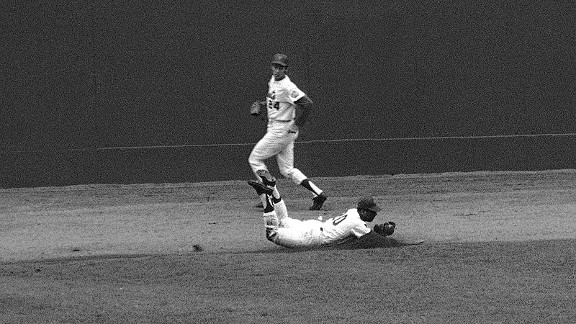 AP Photo
New York (NL) 4, Baltimore (AL) 1
Game Scores:
BAL 4, NYM 1 @ BAL
NYM 2, BAL 1 @ BAL
NYM 5, BAL 0 @ NYM
NYM 2, BAL 1 @ NYM
NYM 5, BAL 3 @ NYM
MVP:
Donn Clendenon

Why the Mets won: Their young pitching talent (particularly, Cy Young winner Tom Seaver, lefty Jerry Koosman) showed it was ready for prime time. Nolan Ryan, then 22, pitched in middle relief.
Why the Orioles lost: The O's veteran lineup was shut down by the Mets' pitching, and was outhomered by the lightly regarded Mets lineup, 6-3.
Memorable moment: In Game 5, Dave McNally bounced a pitch to the Mets' Cleon Jones; Mets manager Gil Hodges pointed to shoe polish on the ball, and Jones went to first base. Donn Clendenon followed with his third Series HR.
Key stat: .430. The Orioles' OPS in the series; they hit just four extra-base hits and scored just nine runs in the series.