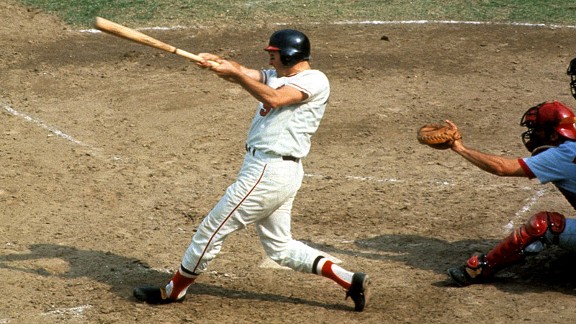 Focus On Sport/Getty Images
Baltimore (AL) 4, Cincinnati (NL) 1
Game Scores:
BAL 4, CIN 3 @ CIN
BAL 6, CIN 5 @ CIN
BAL 9, CIN 3 @ BAL
CIN 6, BAL 5 @ BAL
BAL 9, CIN 3 @ BAL
MVP:
Brooks Robinson

Why the Orioles won: After losing to the Mets in '69, Brooks Robinson wasn't going to be denied, hitting the game-winning HR in the opener, then putting on a show on defense in Game 3.
Why the Reds lost: 20-game winner Jim Merritt was sore-armed, leaving Cincinnati short of starting pitching to hang with the O's.
Memorable moment: In the first of several great plays in Game 3, Robinson's speared Tony Perez's grounder, stepped on third, then fired to first to complete the DP and squelch a scoring threat in the first inning.
Key stat: .509. The Orioles' slugging percentage in the series as they mashed 10 homers off the Reds.