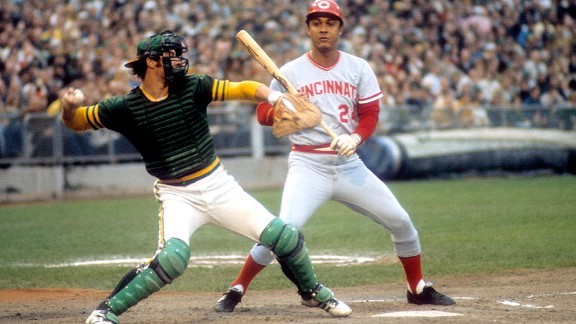 Focus On Sport/Getty Images
Oakland (AL) 4, Cincinnati (NL) 3
Game Scores:
OAK 3, CIN 2 @ CIN
OAK 2, CIN 1 @ CIN
CIN 1, OAK 0 @ OAK
OAK 3, CIN 2 @ OAK
CIN 5, OAK 4 @ OAK
CIN 8, OAK 1 @ CIN
OAK 3, CIN 2 @ CIN
MVP:
Gene Tenace

Why the A's won: Gene Tenace's breakout batting, plus manager Dick Williams' using his four starters and Rollie Fingers to pitch all but three innings in the series, kept the Big Red Machine in check.
Why the Reds lost: Joe Morgan (.125) and Pete Rose (.214) were quiet, and wasted opportunities killed them in Games 3 and 4.
Memorable moment: With the tying run on and no outs in the ninth inning in Game 2, A's left fielder Joe Rudi made a leaping, back-handed catch against the fence on a ball hammered by Denis Menke to save the game.
Key stat: 4. The number of HRs hit for backup catcher Gene Tenace to tie what was then a WS record.