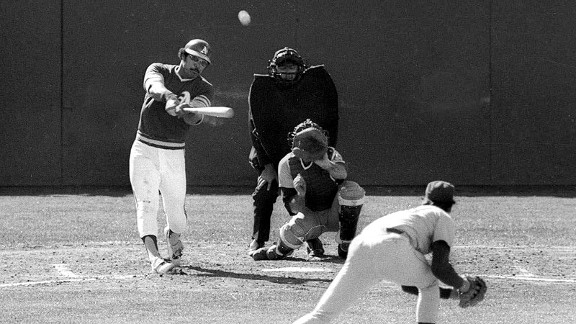 AP Photo
Oakland (AL) 4, New York (NL) 3
Game Scores:
OAK 2, NYM 1 @ OAK
NYM 10, OAK 7 @ OAK
OAK 3, NYM 2 @ NYM
NYM 6, OAK 1 @ NYM
NYM 2, OAK 0 @ NYM
OAK 3, NYM 1 @ OAK
OAK 5, NYM 2 @ OAK
MVP:
Reggie Jackson

Why the A's won: Manager Dick Williams used his 'pen well, and Reggie Jackson's timely hitting got his Mr. October rep going.
Why the Mets lost: In Game 6, Tom Seaver lost a Game 6 matchup with Catfish Hunter to tie the series, and Jon Matlack allowed the A's first two HRs of the series to lose Game 7.
Memorable moment: After Mike Andrews made two errors in the 12th to help lose Game 2, owner Charlie Finley tried taking him off the roster; commissioner Bowie Kuhn stepped in, reinstating Andrews.
Key stat: 13 2/3. The innings pitched by A's closer Rollie Fingers, who appeared in six games.