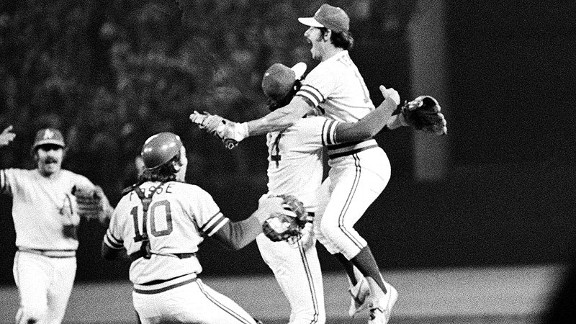 AP Photo
Oakland (AL) 4, Los Angeles (NL) 1
Game Scores:
OAK 3, LAD 2 @ LAD
LAD 3, OAK 2 @ LAD
OAK 3, LAD 2 @ OAK
OAK 5, LAD 2 @ OAK
OAK 3, LAD 2 @ OAK
MVP:
Rollie Fingers

Why the A's won: Rollie Fingers was used aggressively, pitching 4 1/3 innings in Game 1 for the win, and saving all of the A's other wins, making the A's the only non-Yankees team to win three consecutive WS.
Why the Dodgers lost: Mistakes, including a Ron Cey error in Game 1, Joe Ferguson's in Game 2, and Andy Messersmith's wild pickoff throw in Game 3; the A's turned these slips into runs.
Memorable moment: In the ninth in Game 1, Game 3 starter Catfish Hunter relieved Rollie Fingers and struck out Ferguson with the tying run on.
Key stat: 3-2. The score of four of the five games, perfectly capturing the kind of series it was.