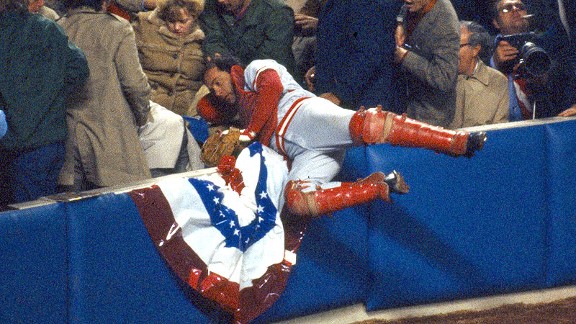 AP Photo/Harry Cabluck
Cincinnati (NL) 4, New York (AL) 0
Game Scores:
CIN 5, NYY 1 @ CIN
CIN 4, NYY 3 @ CIN
CIN 6, NYY 2 @ NYY
CIN 7, NYY 2 @ NYY
MVP:
Johnny Bench

Why the Reds won: They outclassed the Yankees in every phase, coming in with a better rotation, 'pen and lineup; the first use of the DH in the WS only made things worse for New York, since the Reds could start Dan Driessen (.714 SLG in the series).
Why the Yankees lost: They were up against one of the best teams of all time; the AL pennant determined who'd lose to the Reds.
Memorable moment: Bench's three-run homer in the ninth in Game 4 was his second bomb of the game, and sealed Cincinnati's series rout.
Key stat: 0. The number of reserves Sparky Anderson used in the series.