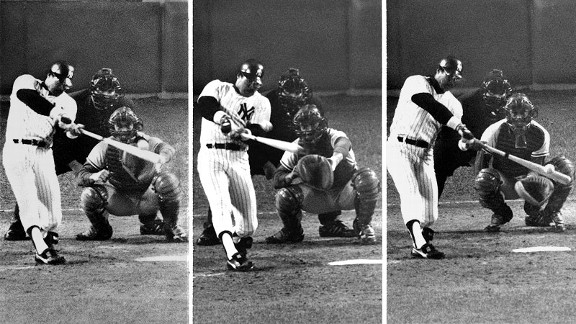 AP Photos/Ray Stubblebine
New York (AL) 4, Los Angeles (NL) 2
Game Scores:
NYY 4, LAD 3 @ NYY
LAD 6, NYY 1 @ NYY
NYY 5, LAD 3 @ LAD
NYY 4, LAD 2 @ LAD
LAD 10, NYY 4 @ LAD
NYY 8, LAD 4 @ NYY
MVP:
Reggie Jackson

Why the Yankees won: Reggie Jackson's five HRs set a WS record, plus Mike Torrez and Ron Guidry threw three CG wins.
Why the Dodgers lost: The Dodgers pounded nine HRs of their own (three by Reggie Smith), but losing Game 1 in the 12th put them behind before they ran into Torrez, Guidry and Mr. October.
Memorable moment: After hitting two HRs earlier in Game 6, Jackson hit his third of the game in the eighth, a 475-foot shot off Charlie Hough.
Key stat: 4-for-4 vs. 4. The number of home runs hit on consecutive swings of the bat by Jackson, doing it against four different pitchers.