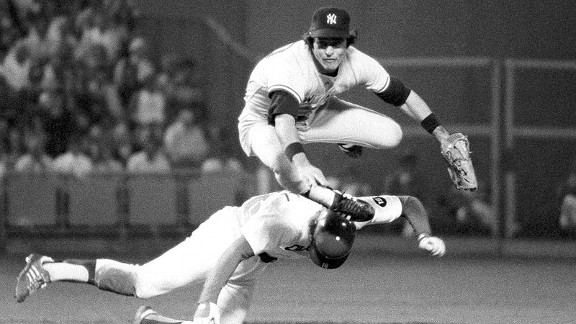 AP Photo
New York (AL) 4, Los Angeles (NL) 2
Game Scores:
LAD 11, NYY 5 @ LAD
LAD 4, NYY 3 @ LAD
NYY 5, LAD 1 @ NYY
NYY 4, LAD 3 @ NYY
NYY 12, LAD 2 @ NYY
NYY 7, LAD 2 @ LAD
MVP:
Bucky Dent

Why the Yankees won: They rallied from down 2-0, averaging 12 hits and runs while getting CG wins from Ron Guidry and rookie Jim Beattie, while Graig Nettles flashed serious leather at third.
Why the Dodgers lost: Other than Tommy John, everyone on the staff got hit hard, and few hitters made any noise beyond Davey Lopes (three HRs).
Memorable moment: In the sixth inning of Game 4, Reggie Jackson may or may not have deliberately interfered with a ball as a baserunner. The throw to first hit him, averting a double play and allowing the Yankees to score a critical run.
Key stat: 10. The number of hits from Bucky Dent, who added seven RBIs.