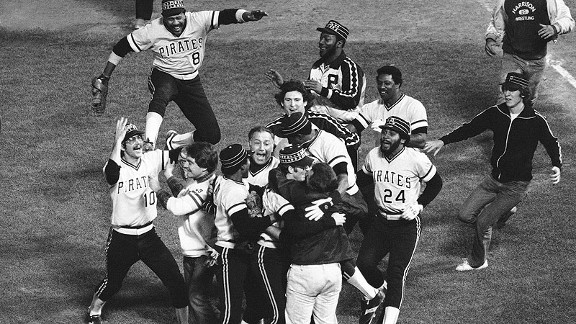 AP Photo
Pittsburgh (NL) 4, Baltimore (AL) 3
Game Scores:
BAL 5, PIT 4 @ BAL
PIT 3, BAL 2 @ BAL
BAL 8, PIT 4 @ PIT
BAL 9, PIT 6 @ PIT
PIT 7, BAL 1 @ PIT
PIT 4, BAL 0 @ BAL
PIT 4, BAL 1 @ BAL
MVP:
Willie Stargell

Why the Pirates won: Time and again, the Pirates rallied late off a weak Orioles 'pen, scoring 13 runs in 17 frames after the sixth inning.
Why the Orioles lost: Not having the DH cost the O's the bat of Lee May, while Eddie Murray, Ken Singleton and Gary Roenicke hit one HR combined after combining for 85 on the season; Murray went 0-for-his-last-21.
Memorable moment: Dave Parker jacked a two-run HR in the sixth inning of Game 7 to give the Pirates a lead they wouldn't lose.
Key stat: 39. That was Willie Stargell's age as "Pop" became the oldest MVP in WS history after tying Reggie Jackson's WS record for total bases (set in '77).