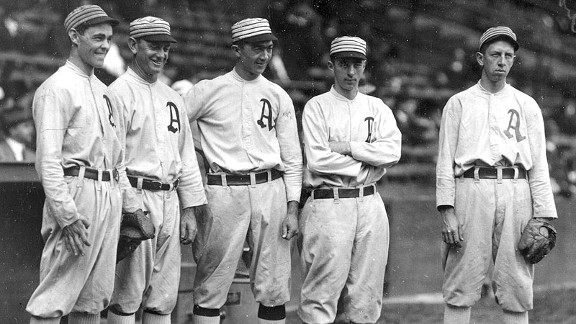 Mark Rucker/Transcendental Graphics/Getty Images
Philadelphia (AL) 4, Chicago (NL) 1
Game Scores:
PHI 4, CHC 1 @ PHI
PHI 9, CHC 3 @ PHI
PHI 12, CHC 5 @ CHC
CHC 4, PHI 3 @ CHC
PHI 7, CHC 2 @ CHC

Why the Athletics won: With Eddie Plank sidelined, Connie Mack used just two pitchers, with Jack Coombs throwing complete-game wins in Games 2, 3 and 5.
Why the Cubs lost: Three-Finger Brown couldn't stop the A's, giving up 23 hits and 16 runs in 18 innings.
Memorable moment: On the train to Chicago, Mack stunned reporters by saying Coombs would pitch again in Game 3.
Key stat: .322. The Athletics' team batting average, with outfielder Danny Murphy hitting .400 and driving in nine runs, and Hall of Famer Eddie Collins hitting .429.