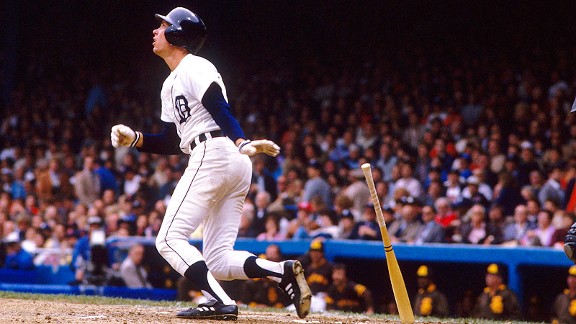 Focus On Sport/Getty Images
Detroit (AL) 4, San Diego (NL) 1
Game Scores:
DET 3, SD 2 @ SD
SD 5, DET 4 @ SD
DET 5, SD 2 @ DET
DET 4, SD 2 @ DET
DET 8, SD 4 @ DET
MVP:
Alan Trammell

Why the Tigers won: Star talent came up big, as SS Alan Trammell hammered a pair of two-run homers to win Game 4, while Jack Morris spun two CG two-run starts for wins.
Why the Padres lost: They were outclased, but also short in the lineup after CF Kevin McReynolds got hurt in the NLCS.
Memorable moment: Kirk Gibson's three-run HR off Goose Gossage in the bottom of the eighth in Game 5, sealing the win and the series.
Key stat: 0.75. The ERA of the Tigers' bullpen as MVP and Cy Young winner Willie Hernandez and company shut the Padres down.