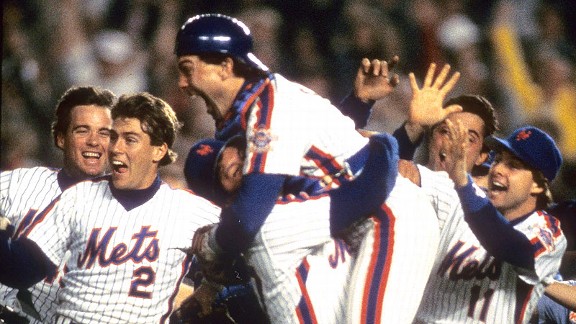 Focus On Sport/Getty Images
New York (NL) 4, Boston (AL) 3
Game Scores:
BOS 1, NYM 0 @ NYM
BOS 9, NYM 3 @ NYM
NYM 7, BOS 1 @ BOS
NYM 6, BOS 2 @ BOS
BOS 4, NYM 2 @ BOS
NYM 6, BOS 5 @ NYM
NYM 8, BOS 5 @ NYM
MVP:
Ray Knight
Why the Mets won: Pitching. Even with Dwight Gooden's two bad games, the Mets still had a 3.29 ERA.
Why the Red Sox lost: Could not capitalize after winning the first two games on the road, losing next two in Boston.
Memorable moment: The ball rolling through Bill Buckner's legs to end Game 6.
Key stat: .391. Series MVP Ray Knight's batting average.