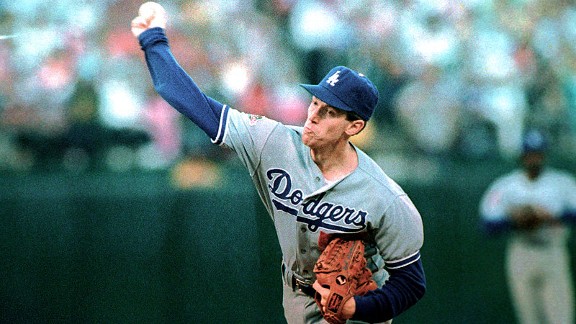 AP Photo/Rusty Kennedy
Los Angeles (NL) 4, Oakland (AL) 1
Game Scores:
LAD 5, OAK 4 @ LAD
LAD 6, OAK 0 @ LAD
OAK 2, LAD 1 @ OAK
LAD 4, OAK 3 @ OAK
LAD 5, OAK 2 @ OAK
MVP:
Orel Hershiser
Why the Dodgers won: The Dodgers' pitchers posted a 2.03 ERA, led by series MVP Orel Hershiser.
Why the A's lost: The combination of "Bash Brothers" Jose Canseco and Mark McGwire went 2-for-36.
Memorable moment: Kirk Gibson's pinch-hit, walk-off, two-run shot off A's closer Dennis Eckersley in Game 1 is perhaps the most famous home run in World Series history.
Key stat: 1. Gibson, who came into the series with an injured knee, batted that one and only time.