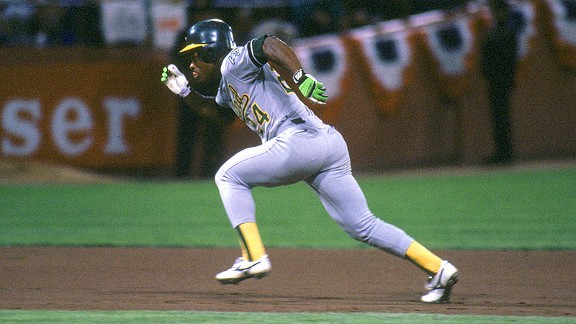 Otto Greule Jr/Getty Images
Oakland (AL) 4, San Francisco (NL) 0
Game Scores:
OAK 5, SF 0 @ OAK
OAK 5, SF 1 @ OAK
OAK 13, SF 7 @ SF
OAK 9, SF 6 @ SF
MVP:
Dave Stewart
Why the A's won: After a horrible 1988 Series, Jose Canseco and Mark McGwire hit a combined .323, and the team hit .301.
Why the Giants lost: Let us count the ways. Their staff finished with 8.21 ERA, they hit .209 as a team and were outscored 32-14.
Memorable moment: A major earthquake struck approximately 30 minutes before first pitch of Game 3.
Key stat: 10. The break between when Game 3 was supposed to be played (Oct. 17) and when it was played (Oct. 27) because of the earthquake.