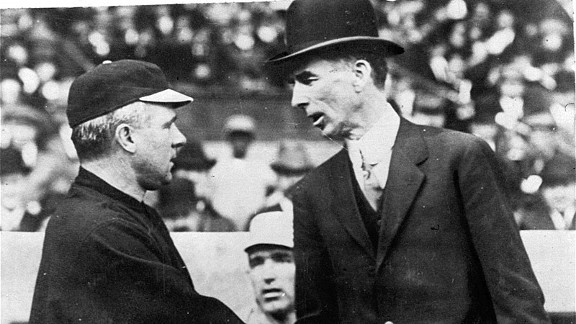 AP Photo
Philadelphia (AL) 4, New York (NL) 2
Game Scores:
NYG 2, PHI 1 @ NYG
PHI 3, NYG 1 @ PHI
PHI 3, NYG 2 @ NYG
PHI 4, NYG 2 @ PHI
NYG 4, PHI 3 @ NYG
PHI 13, NYG 2 @ PHI

Why the Athletics won: Frank Baker hit two big home runs -- a monumental feat in 1911 that earned the nickname "Home Run" -- and Chief Bender, Jack Coombs and Eddie Plank held the Giants to 13 runs.
Why the Giants lost: They led the NL with a .279 average during the regular season, but hit just .175, including Red Murray's 0-for-21 effort.
Memorable moment: Baker, whose 11 home runs led the AL, hit a two-run shot off Rube Marquard in Game 2 and then a game-tying blast in the ninth off Christy Mathewson in Game 3.
Key stat: 11. The number of hits Bender allowed in winning Game 4 and Game 6 (on one day's rest).