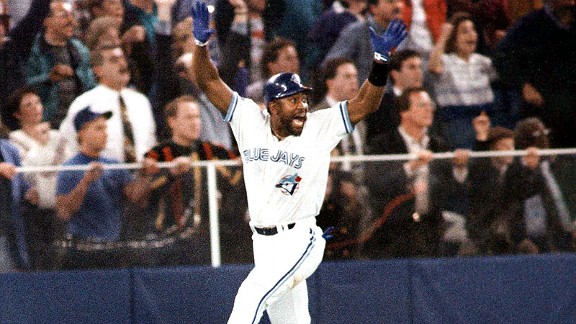 AP Photo/Mark Duncan
Toronto (AL) 4, Philadelphia (NL) 2
Game Scores:
TOR 8, PHI 5 @ TOR
PHI 6, TOR 4 @ TOR
TOR 10, PHI 3 @ PHI
TOR 15, ATL 14 @ PHI
PHI 2, TOR 0 @ PHI
TOR 8, ATL 6 @ TOR
MVP:
Paul Molitor
Why the Blue Jays won: The Blue Jays' offense erupted, hitting .311 in over the six games.
Why the Braves lost: The Phillies couldn't hold a lead, coughing up five-run, eighth-inning lead in Game 4 over a one-run, ninth-inning lead in Game 6.
Memorable moment: Joe Carter's series-ending homer in the ninth against Mitch Williams.
Key stat: 2. The number of losses for Phillies closer Mitch Williams.