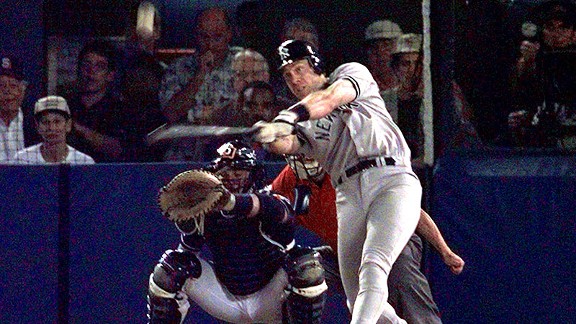 AP Photo/Kevork Djansezian
New York (AL) 4, San Diego (NL) 0
Game Scores:
NYY 9, SD 6 @ NYY
NYY 9, SD 3 @ NYY
NYY 5, SD 4 @ SD
NYY 3, SD 0 @ SD
MVP:
Scott Brosius
Why the Yankees won: The Yankees blitzed Padres pitchers, hitting .309 in four games. Ricky Ledee had six hits in 10 at-bats.
Why the Padres lost: The Padres fell behind in three of the four games and never could recover, thanks a pitching staff that had a 5.82 ERA.
Memorable moment: Tino Martinez's grand slam in a seven-run seventh inning of Game 1 broke a tie and changed the Series.
Key stat: 3. The number of saves for the great Mariano Rivera.