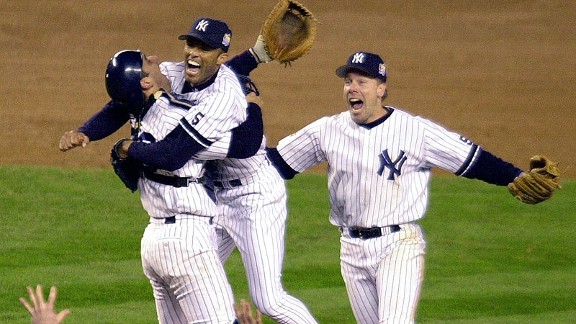 AP Photo/Ron Frehm
New York (AL) 4, Atlanta (NL) 0
Game Scores:
NYY 4, ATL 1 @ ATL
NYY 7, ATL 2 @ ATL
NYY 6, ATL 5 @ NYY
NYY 4, ATL 1 @ NYY
MVP:
Mariano Rivera
Why the Yankees won: The Yankees' pitching staff posted a 2.19 ERA over four games.
Why the Braves lost: Along with being unable to hit -- the Braves batted .200 -- they gave up a crushing walk-off homer to Chad Curtis in Game 3.
Memorable moment: Pete Rose's on-field interview during the All-Century team ceremony.
Key stat: 2. A year after picking up three saves, Mariano Rivera got two more and the Series MVP.