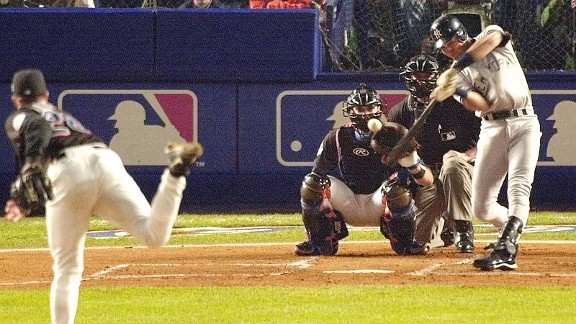 AP Photo/Bill Kostroun
New York (AL) 4, New York (NL) 1
Game Scores:
NYY 4, NYM 3 @ NYY
NYY 6, NYM 5 @ NYY
NYM 4, NYY 2 @ NYM
NYY 3, NYM 2 @ NYM
NYY 4, ATL 2 @ NYM
MVP:
Derek Jeter
Why the Yankees won: The Mets could not get Derek Jeter out. Jeter hit .409 with two homers, two doubles and a triple.
Why the Mets lost: The Mets kept falling behind, allowing the Yankees to score first in four of five games.
Memorable moment: Roger Clemens throws a shattered bat at Mike Piazza along the first-base line.
Key stat: 12. The number of strikeouts by the Yankess' Orlando "El Duque" Hernandez in Game 3.