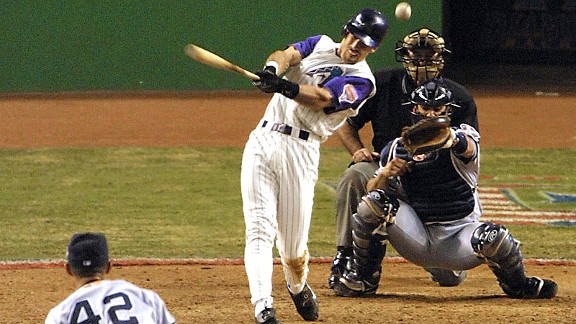 Mike Nelson/AFP/Getty Images
Arizona (NL) 4, New York (AL) 3
Game Scores:
ARI 9, NYY 1 @ ARI
ARI 4, ARI 0 @ ARI
NYY 2, ARI 1 @ NYY
NYY 4, ARI 3 @ NYY
NYY 3, ARI 2 3 @ NYY
ARI 15, NYY 2 @ ARI
ARI 3, NYY 2 @ ARI
MVPs:
Randy Johnson, Curt Schilling
Why the Diamondbacks won: The D-backs overcame the emotion of two crushing late-inning losses and figured out how to get to Mariano Rivera in Game 7.
Why the Yankees lost: Two postseason stalwarts, Andy Pettitte and Mariano Rivera, lost three games.
Memorable moment: President George W. Bush throwing out the first pitch at Yankee Stadium before Game 3.
Key stat: 4. Wins by Randy Johnson (3) and Curt Schilling (1), who were co-MVPs.