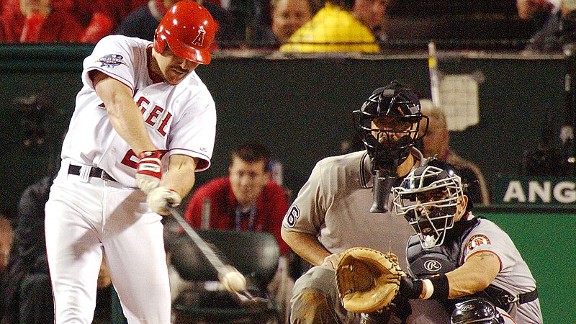 Mike Nelson/AFP/Getty Images
Anaheim (AL) 4, San Francisco (NL) 3
Game Scores:
SF 4, ANA 3 @ ANA
ANA 11, SF 10 @ ANA
ANA 10, NYY 4 @ SF
SF 4, ANA 3 @ SF
SF 16, ANA 4 @ SF
ANA 6, SF 5 @ ANA
ANA 4, SF 2 @ ANA
MVP:
Troy Glaus
Why the Angels won: The Rally Monkey? No, it was because it hit .310 in the series.
Why the Giants lost: With a title in reach, the Giants couldn't hold 5-0, eighth-inning lead in Game 6.
Memorable moment: J.T. Snow pulling 3-year-old batboy Darren Baker out of harm's way on a play at the plate in Game 5.
Key stat: .385. Series MVP Troy Glaus' batting average. He also had three homers and eight RBIs.