Ichiro receives standing ovation as he exits final game
Ichiro Suzuki leaves the field in his final game and is sent off with a standing ovation and hugs from his teammates in his home country of Japan.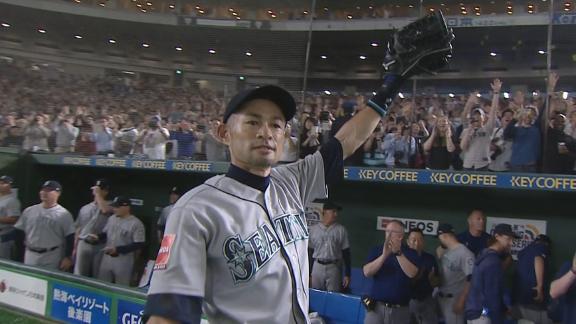 Healy gives Mariners a lead with 2-run shot
Ryon Healy sends Marco Estrada's pitch deep to left field for a two-run homer in the second inning.
Customize ESPN
ESPN Illustration

74 home runs? 384 strikeouts? A 57-game hitting streak? History could be made this year, but some standards are more attainable than others.
Mike Trout, $430 million bargain
AP Photo/Elaine Thompson

What if L.A. had given the outfielder $600 million? $700 million? Heck, with what the Angels will get for the next 12 years -- and beyond -- they could've handed him 10 figures.
Orlin Wagner/AP Photo

Changes to the trade deadline, roster size and minimum pitcher workloads over the next two seasons should shake up your scorecards.
Fantasy baseball: Do not draft these players
Stacy Revere/Getty Images

Eric Karabell identifies the players he's actively avoiding at their current average draft position.
ESPN Fan Shop
Powered By

It's not too late to play!