Dodgers make history with home run party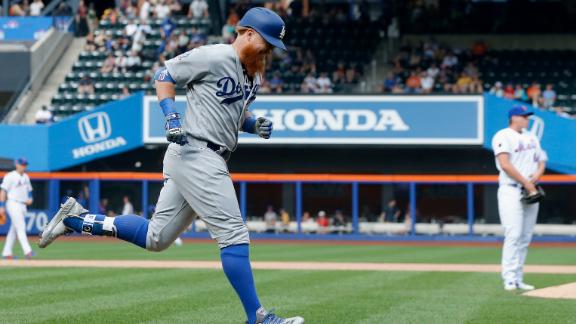 Bauers' big homer wins it for the Rays
Jake Bauers drives a fly ball over the right-field wall to give the Rays a walk-off win over the Yankees.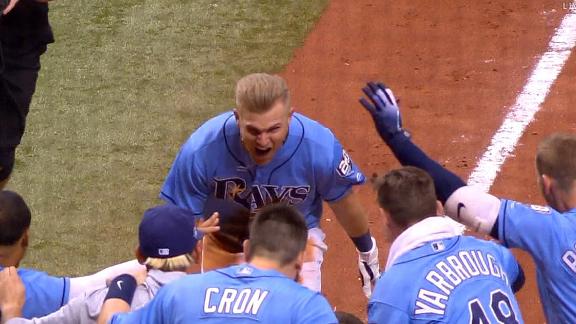 Rays sweep Yankees with Bauers' walk off in the 12th
Jake Bauers cranks a home run in the 12th inning to break a 6-6 tie and give the Rays a 7-6 win over the Yankees.
Hechavarria gets unconventional assist from a speaker
Clint Frazier pops a fly ball that deflects off of a speaker and into the glove of Adeiny Hechavarria for the out.
Stanton delivers for Yankees with solo shot
Giancarlo Stanton ties the game with a clutch solo home run in the eighth inning.
Rays tack on two more runs off Sucre's double
Jesus Sucre cranks an RBI double to give the Rays a 6-3 lead over the Yankees.
Hechavarria goes solo to tie game for Tampa Bay
Adeiny Hechavarria smacks a solo home run to right field to tie the Rays' game against the Yankees.
Andujar's big blast gives the Yankees the lead
Miguel Andujar cranks a 3-run home run as the Yankees go in front of the Rays, 3-2.
Customize ESPN

It's not too late to play!
Keith Law's Top 100 Prospects
Photo by Cliff Welch/Icon Sportswire

Between minor leaguers with major league bloodlines and future stars who have been involved in major trades, there are plenty of familiar names on this year's list. Where did your team's top young players land?
Tracking Ohtani's progress
Sean M. Haffey/Getty Images

Los Angeles' pitching/hitting sensation is turning heads with every step. Follow along for the major moments from Ohtani's big league journey.
Rafa Alvarez

From setting the mood to celebrating a win, these are the players responsible for keeping their teams on beat.
Mahoney Studio

Here's a radical idea: no more games that don't matter, or teams that can't pretend to contend. We imagine a way hope can stay alive all season.