Reds pitcher DeSclafani hits grand slam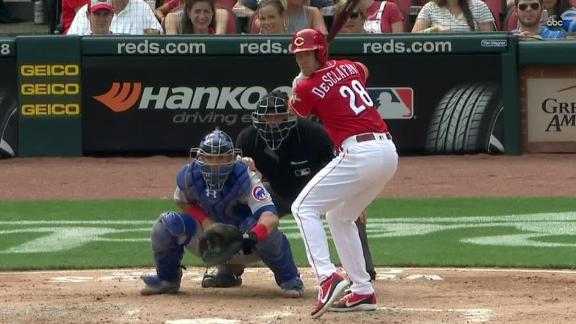 Kemp's grand slam puts Dodgers up big
Matt Kemp crushes a grand slam to deep left field in the top of the eighth inning.
Realmuto crushes grand slam to extend Marlins' lead
J.T. Realmuto pads Miami's lead in the seventh inning with an opposite-field grand slam.
Trumbo crushes grand slam to give Orioles early lead
Mark Trumbo hits a grand slam to center field in the top of the first inning to put Baltimore on the board.
Customize ESPN

It's not too late to play!
Keith Law's Top 100 Prospects
Photo by Cliff Welch/Icon Sportswire

Between minor leaguers with major league bloodlines and future stars who have been involved in major trades, there are plenty of familiar names on this year's list. Where did your team's top young players land?
Tracking Ohtani's progress
Sean M. Haffey/Getty Images

Los Angeles' pitching/hitting sensation is turning heads with every step. Follow along for the major moments from Ohtani's big league journey.
Rafa Alvarez

From setting the mood to celebrating a win, these are the players responsible for keeping their teams on beat.
Mahoney Studio

Here's a radical idea: no more games that don't matter, or teams that can't pretend to contend. We imagine a way hope can stay alive all season.