Small change proves big for Nelson Cruz

By Buster Olney
ESPN The Magazine
Archive
Josh Hamilton
owns national renown for power because of the incredible display he put on in the Home Run Derby. But
Nelson Cruz
, his teammate with the
Texas Rangers
, can match him for pure power, as Texas general manager Jon Daniels noted Tuesday. In batting practice, Daniels said, Cruz hits the ball over the batter's eye in center field "with regularity. "He's unbelievably strong. It's freakish power."
[+] Enlarge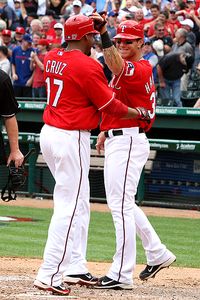 Matthew Emmons/US PresswireNelson Cruz was on waivers. Now he is on his way to becoming a star.
Cruz and Hamilton are so daunting in batting practice that the Rangers are careful to make sure that Texas hitters are not affected by their fireworks show. The Rangers have been mindful not to create a situation, in the BP hitting groups, such that another hitter might get caught up in trying to match the two swing for swing. If Cruz and Hamilton were together, the other two hitters might be susceptible to trying to get away from their normal preparation and might think about loading up to blast the ball. So, like two school friends who might be a distraction in class, Cruz and Hamilton are separated -- before games, anyway. On Monday, Toronto's
Shaun Marcum
had to cope with Cruz,
Vladimir Guerrero
and Hamilton together, and the pitch he threw to Cruz in the seventh inning wasn't that bad. Low and away. And Cruz wasn't fully invested in the swing that he took: He leaned forward and just sort of flicked the ball, like someone playing badminton. But the ball rocketed over the right-center wall for a three-run homer --
a game-changing swing
. Two innings later, Cruz tied the score again with a double, finishing the first game of the season with four RBIs. It was just two years ago, by the way, that Cruz passed through waivers unclaimed, as the Rangers sent him to the minors. In the summer of 2008, some members of the Rangers' minor league staff -- director of player development Scott Servais, Triple-A manager Bobby Jones and Mike Boulanger, the team's minor league hitting coordinator -- helped Cruz make an adjustment to his stance. Up until then, Cruz had hit with his front foot -- his left foot -- closer to home plate, in a closed stance. With the coaching, Cruz drew the left foot back, opening his stance; what Daniels believes is that this helped Cruz see the ball better. When Cruz returned to the Rangers and played for them that August, he was a different hitter. "Since then, he's been pretty consistent," Daniels said. Last year, the player who had been put on waivers by the Rangers and passed on by every other team hit 33 homers and generated a .524 slugging percentage. "Sometimes, it's better to be lucky than good," Daniels said, "and the reality is you probably need to be both." In the case of Nelson Cruz, the Rangers have been lucky and good.
Buster Olney is a senior writer for ESPN The Magazine and an analyst for "Baseball Tonight." Read his daily blog, which runs through all the news and notes you need from around the majors.
Baseball Tonight Live
Baseball Tonight analysts, ESPN.com writers and SweetSpot Network bloggers chatted with fans and gave their in-game opinions throughout the day's games -- all in Baseball Tonight Live.
Touch 'Em All

Who went deep? Keep track of all the home runs hit each day on "Baseball Tonight" and the Baseball Tonight Clubhouse page. For more, check out the Home Run Tracker page.
| NAME | HR | OPP | SITUATION | Pitcher |
| --- | --- | --- | --- | --- |
| Chipper Jones, ATL | 1 | CHC | Bot 8: 3-1, 1 Out. 1 on. | Grabow |
| Ryan Howard, PHI | 2 | WAS | Top 5: 1-0, 0 Outs. 1 on. | Marquis |
| Evan Longoria, TAM | 2 | BAL | Bot 8: 1-0, 1 Out. None on. | Meredith |
| Nelson Cruz, TEX | 2 | TOR | Bot 4: 0-0, 0 Outs. None on. | Tallet |
| Hanley Ramirez, FLA | 1 | NYM | Top 5: 0-0, 0 Outs. None on. | Maine |
BASEBALL TONIGHT ON THE AIR
THURSDAY
7:30 p.m. ET on ESPN2
Host: Karl Ravech
Analysts: Eduardo Perez, Doug Glanville, Tim Kurkjian
12 a.m. ET on ESPN
Host: Steve Berthiaume
Analysts: Eduardo Perez, Doug Glanville
WEDNESDAY'S BEST AND WORST
BEST
Vernon Wells, CF, Blue Jays

Wells
Wells had a busy night at the plate, going 2-for-3 with two homers, three RBIs, four runs scored and one walk in Toronto's 7-4 win over the Rangers. In two games, Wells is 5-for-7 with three homers and six RBIs.
---
WORST
Jeff Fulchino, RHP, Astros

Fulchino
Fulchino came in and got one out against the Astros. He also gave up four hits, four runs, a homer and a walk in the ninth inning of a 10-4 loss against the Giants.
THURSDAY'S TOP MATCHUPS
Cubs at Braves, 7:10 p.m. ET


Tommy Hanson went 11-4 with a 2.89 ERA last year in 21 starts. Can he make 30 starts? Win 20 games? Contend for a Cy Young award? We'll find out, starting Thursday night at home against the Cubs.
---
Marlins at Mets, 7:10 p.m. ET


Nate Robertson will make his second career start for the Marlins. His first one, by the way, came in 2002. Robertson spent the past seven seasons in Detroit before Florida reacquired him in March.
---
Orioles at Rays, 7:10 p.m. ET


Brian Matusz, a popular preseason choice for AL Rookie of the Year honors, makes his season debut. In eight starts last season for the Orioles, the lefty went 5-2 with a 4.63 ERA. He faced the Rays once last year, picking up the win in spite of a so-so outing -- he allowed four runs in 5 1/3 innings.

Pedroia

Cano
The Boston Red Sox and the New York Yankees.
If those words don't spark baseball passions, you might be reading the wrong blog. A rivalry so deep and so bitter it has often determined whom you decide to marry in New England. An age-old feud that has produced three of the past six World Series champions. It's the reason Connecticut could never support its own baseball team. So, for the season's opening week, why not throw a little gasoline on the fire? Which team has the better second baseman? Is it
Dustin Pedroia
or
Robinson Cano
?
Pedroia vs. Cano (162-game avg.)
| | Cano | Pedroia |
| --- | --- | --- |
| Runs | 90 | 109 |
| Hits | 193 | 195 |
| Doubles | 44 | 49 |
| HR | 19 | 14 |
| RBI | 87 | 71 |
| BA | .306 | .307 |
| OBP | .339 | .370 |
| SLG | .480 | .455 |