Before looking forward, always fun to look back
On "Baseball Tonight", we occasionally will illustrate the anatomy of an inning by supplementing our highlight with a "Baseball Tonight" Rewind. The idea being that after we show you the big run-scoring double or home run, we back the highlight up in time and show you exactly how things were set up for the big moment. It's our version of a time machine without the hot tub. Let's do that for the season here as we approach the All-Star break: rewind to spring training and revisit some team's big spring concerns to see how things have played out to this point. •
Corey Hart
's spring was problematic, to say the least. Hart was diagnosed as nearsighted after flunking an eye exam. A quick fix proved difficult when Hart couldn't find a pair of glasses or contacts that he could play with. A key piece of Milwaukee's offense appeared broken and in trouble, as Hart hit just .172 in 64 spring training at-bats. It was one of the Brewers' big issues as they opened the season. Fast-forward three months and Hart is a National League All-Star. He is second in the National League in homers (19), slugging (.572) and RBIs (61). Hart homered Sunday to extend his hitting streak to 19 games, the longest active streak in the majors, and has hit .358 (29-for-81) during the streak. In his past 47 games, he has hit 16 home runs with 49 RBIs.
[+] Enlarge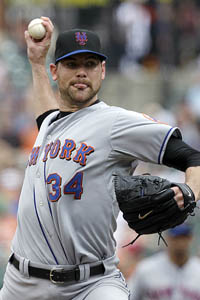 AP Photo/Rob CarrMike Pelfrey is 10-2 and leading the Mets in wins.
• The Mets watched two key members of their rotation struggle this spring. In six spring training starts,
Mike Pelfrey
went 0-4 with a 6.15 ERA, allowing 37 hits in 26 1/3 innings.
Johan Santana
, five months removed from left elbow surgery, was equally ineffective: 0-2, 6.75 in four spring starts while allowing 26 hits in 14 2/3 innings. Fast-forward to July 5 and here's where we are: Pelfrey, after losing 20 pounds during the winter and working on a new split-finger grip, is leading the Mets with 10 wins and a 2.93 ERA. Santana hasn't been, well … Santana, however. The velocity still doesn't seem to have returned, and the Mets' $137.5 million man is 5-5 with a 3.41 ERA. •
Gaby Sanchez
won the Marlins' first-base job with a .364 spring (20-for-55). Three months later, Sanchez is Florida's leading hitter at .308. The Cubs watched a pair of rookies have sizzling springs:
Tyler Colvin
hit .468 and
Starlin Castro
.429. A quick check shows that the youngsters have been remarkably similar through the season's first half. Colvin is hitting .278 in 162 at-bats, and Castro is at .272 in 173 at-bats. • Let's "Baseball Tonight" Rewind back to the end of the spring when
Aaron Boone
picked the Reds to win the NL Central. (Yes, we mocked.) As usual, Boonie is looking a lot cooler than the rest of us, and Cincinnati's pitching staff has been a big reason why. The battle for the Reds' fifth starter spot this spring came down to youngsters
Mike Leake
and
Travis Wood
. Their spring numbers were very similar. Leake: 18 innings pitched, 16 hits, 10 strikeouts; Wood: 18 innings pitched, 15 hits, 17 strikeouts. The issue might have been that Wood walked 12 and Leake walked only four. So it was Leake, without ever having pitched in the minor leagues after he was the Reds' No. 1 pick in 2009, who broke camp as Cincinnati's fifth starter. He's been a lot better than that, winning Sunday to improve to 6-1 and currently leading Reds starters with a 3.38 ERA. Wood, a second-round pick by the Reds in 2005, finally got the call last week and pitched seven innings of two-hit ball at Wrigley Field. Wood is scheduled to get another start Tuesday, against the Mets in New York. Wood is just 23 years old, Leake 22. And with
Edinson Volquez
close to returning and Aroldis Chapman possibly getting a big league look soon, the Reds have the option to keep adding good, young pitching as the season wears on. That, combined with the ridiculous hitting tear
Joey Votto
has been on, should keep Cincinnati at or near the top of the NL Central race for the rest of the season. By the way, if you're wondering what kind of spring Votto had, maybe we should have seen this coming: He hit .352 (19-for-54). •
David Ortiz
set off a repeat of 2009's Big Papi panic with a 1-for-19 start this spring. Ortiz hit just .226 for his entire spring with only three homers in 62 at-bats. Was he done? Ortiz was May's American League Player of the Month, hitting .363 in May with 10 home runs and 27 RBIs while slugging a baseball-best .788. He's an All-Star. One thing to think about while watching Big Papi in the second half of the season: The Red Sox hold a $12.5 million option on Ortiz for 2011. • Rays manager Joe Maddon talked about dropping
Pat Burrell
to seventh in his batting order when Burrell hit .188 for the spring. It only took six more weeks for Tampa Bay to drop Burrell altogether. Now, however, Burrell is providing the Giants with plenty of pop after signing a minor league deal with San Francisco on May 30. In 26 games with the Giants, Burrell is hitting .315 with five home runs in 73 at-bats. There certainly are cases in which spring training is a perfect indicator of what's to come. Ken Griffey Jr. hit .152 in 33 spring at-bats. Now, he's retired.
Carlos Pena
began his spring 0-for-21 and hit just .176 in 51 spring at-bats. As of Monday, Pena is hitting just .200 and leading the American League with 88 strikeouts. It's always interesting to take a "Baseball Tonight" Rewind back to the spring.
Steve Berthiaume is a host for "Baseball Tonight."
Baseball Tonight Live
"Baseball Tonight" analysts, ESPN.com writers and SweetSpot Network bloggers chatted and gave their in-game opinions throughout the day's games -- all in Baseball Tonight Live.
Touch 'Em All

Who went deep? Keep track of all the home runs hit each day on "Baseball Tonight" and the Baseball Tonight Clubhouse page. For more, check out the Home Run Tracker page.
| NAME | HR | OPP | SITUATION | Pitcher |
| --- | --- | --- | --- | --- |
| Drew Stubbs, CIN | 9 | CHC | Top 3: 1-0, 1 Out. None on. | Lilly |
| Drew Stubbs, CIN | 10 | CHC | Top 7: 3-2, 2 Outs. 2 on. | Stevens |
| Drew Stubbs, CIN | 11 | CHC | Top 9: 1-1, 1 Out. None on. | Cashner |
| Matt Kemp, LAD | 15 | ARI | Top 8: 2-1, 1 Out. 1 on. | Heilman |
| Pedro Alvarez, PIT | 2 | PHI | Bot 7: 0-1, 0 Outs. None on. | Blanton |
BASEBALL TONIGHT ON THE AIR
MONDAY
10 p.m. ET on ESPN
Host: Karl Ravech
Analysts: Nomar Garciaparra, John Kruk, Bobby Valentine
12 a.m. ET on ESPN
Host: Karl Ravech
Analysts: Bobby Valentine
WEB GEMS LEADERBOARD

This season, "Baseball Tonight" will be tracking Web Gems. Points will be calculated by awarding five points for the night's top defensive play, four points for second, three for third, two for fourth and one for fifth. Scoring will be based on fan voting of the previous night's gems (from the last "Baseball Tonight" each night).
SUNDAY'S BEST AND WORST
BEST
Drew Stubbs, CF, Reds

Stubbs
In all of June, Stubbs hit two homers and drove home 10 runs. On Sunday at windblown Wrigley Field, he hit three homers and drove home five runs in the Reds' 14-3 win. His powerful day lifted his OPS from .688 to .730 and his SLG from .380 to .417.
---
WORST
Jeremy Bonderman, RHP, Tigers

Bonderman
You have to be good when you face Cliff Lee. Bonderman wasn't. He gave up nine hits, seven runs and two homers in five innings of work in an 8-1 loss against the Mariners. Bonderman has given up at least one homer in each of his past seven starts and twice gave up a pair in one game.
MONDAY'S BEST MATCHUPS
Braves at Phillies, 7:05 p.m. ET, ESPN


Roy Halladay has lost four of his past five starts, partly because he hasn't gone much support from an ailing Phillies offense and partly because he has given up 44 hits in 37 innings. Derek Lowe could use some support, too. The Braves have scored twice in his past two starts.
---
Red Sox at Rays, 7:10 p.m. ET


They enter with nearly identical records -- the Red Sox are 49-33, the Rays 48-33 -- and both chasing the Yankees in the AL East. Matt Garza won at Fenway Park in his most recent start, beating the same pitcher he will face Monday, Boston's Daisuke Matsuzaka.
---
Reds at Mets, 7:10 p.m. ET


The Reds scored double digits in two of their past three games; the Mets came close in their most recent, scoring nine times in a win against the Nationals. Aaron Harang faces Mike Pelfrey, who is 10-2 but coming off a rough outing against the Marlins.
The rest of Monday's schedule »