Mets get the Wright feeling this year
The Mets aren't exactly what you'd call a "lucky" team. In addition to dealing with injuries and late-season skids, there have been issues with players not addressing the media and just a general sense of discontinuity. But this year is different. Perhaps no player is benefiting more from that difference than
David Wright
. The 27-year-old third baseman hit a pedestrian 10 homers for New York last season. Halfway through the 2010 campaign, he's already connected on 14 homers and leads the NL with 64 RBIs.
[+] Enlarge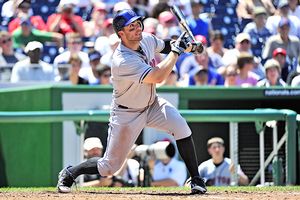 Ed Wolfstein/Icon SMIDavid Wright has his stroke back this season, as evidenced by his NL-best 64 RBIs.
From a mechanics standpoint, Wright spent most of last year trying to push the ball to right field and play to the dimensions at Citi Field. Thinking about the layout of his home ballpark was probably taking more of a toll on him than it should have been; this year it's like he's "mentally free." He's being so aggressive -- instead of looking to push those middle pitches to the opposite field he's turning on them and hitting the ball hard. Last year, the mechanics he was working into his swing seemed to go on the road with him. Now he has the right approach for whatever stadium he plays in, and that's because he's sticking with his strengths. Yes, he strikes out a lot. But look at all those RBIs. He can utilize the whole field, but can also turn on the ball with the best of them. So he's making sure that the power aspect of his game stays sharp and doesn't slide back just to protect his batting average. Yet perhaps the biggest difference with "David Wright: 2010 edition" is his attitude and overall confidence. In the past, a lot of people wondered when he was going to step up and be the vocal leader of the Mets. I think with more veteran guys like
Carlos Delgado
and
Carlos Beltran
around, there was confusion over who should take the reins. Subsequently, it seemed like the 2009 Mets were led by their medical staff. This year, there's no question that this is David Wright's team.
If something goes wrong, he can come into the dugout after an inning and command everyone's attention and respect. Guys such as
Jason Bay
,
Jeff Francoeur
and
Ike Davis
have helped create this positive clubhouse personality with Wright at the center of it all. Players are listening and responding to Wright's leadership. You can tell when a team starts to gel because you see them celebrating more and really relying on one another in tough situations. But the five-time All-Star is doing a great job of leading by example, too. On Monday, when it was a sweltering 98 degrees at Citi Field and a lot of players around the league in other warm-weather locations were scaling back on their pregame workouts, Wright was out on the field taking ground balls before batting practice. He's maintained a tremendous work ethic on the diamond and in the batting cage, and I think it speaks volumes to the younger players on that team. The keys for David Wright and the Mets are to stay healthy, add another quality arm toward the top of the rotation and make sure that when guys such as Beltran return to the team they're assimilated into this new Mets culture -- a culture that prides itself on working hard, holding each other accountable, and winning ball games.
Chris Singleton is an analyst for "Baseball Tonight"
Baseball Tonight Live
"Baseball Tonight" analysts, ESPN.com writers and SweetSpot Network bloggers chatted and gave their in-game opinions throughout the day's games -- all in Baseball Tonight Live.
Touch 'Em All

Who went deep? Keep track of all the home runs hit each day on "Baseball Tonight" and the Baseball Tonight Clubhouse page. For more, check out the Home Run Tracker page.
| NAME | HR | OPP | SITUATION | Pitcher |
| --- | --- | --- | --- | --- |
| Johan Santana, NYM | 1 | CIN | Bot 3: 2-2, 2 Outs. None on. | Maloney |
| Dewayne Wise, | 2 | MIN | Bot 5: 0-1, 1 Out. 1 on. | Pavano |
| Raul Ibanez, PHI | 7 | ATL | Bot 1: 1-2, 1 Out. 1 on. | Jurrjens |
| Justin Morneau, MIN | 18 | TOR | Top 6: 0-0, 1 Out. None on. | Litsch |
| Carlos Lee, HOU | 11 | PIT | Bot 1: 1-1, 2 Outs. None on | Lincoln |
BASEBALL TONIGHT ON THE AIR
WEDNESDAY
10 p.m. ET on ESPN
Host: Karl Ravech
Analysts: Chris Singleton, Buster Olney, J.P. Ricciardi
12 a.m. ET on ESPN
Host: Steve Berthiaume
Analysts: Chris Singleton
WEB GEMS LEADERBOARD

This season, "Baseball Tonight" will be tracking Web Gems. Points will be calculated by awarding five points for the night's top defensive play, four points for second, three for third, two for fourth and one for fifth. Scoring will be based on fan voting of the previous night's gems (from the last "Baseball Tonight" each night).
TUESDAYS BEST AND WORST
BEST
Johan Santana, LHP, Mets

Santana
Heading into the bottom of the sixth, the Mets held a 1-0 lead against the Reds. Where'd the one run come from? A homer from Santana, of course. He got two more insurance runs, but didn't need them. Santana tossed a complete-game, three-hit shutout in a 3-0 win.
---
WORST
Ryan Franklin, RHP, Cardinals

Franklin
The Rockies scored nine times in the bottom of the ninth to beat the Cardinals 12-9. So, somebody had to give up all those runs right. Franklin was the biggest culprit; he gave up six runs, six hits and two homers while recording just one out.
WEDNESDAY'S BEST MATCHUPS
Reds at Mets, 7:05 p.m. ET, ESPN


The Mets' Jonathon Niese is 5-0 over his past six starts. Over his past two, he has allowed one run in 13 innings and struck out 13 against three walks. Bronson Arroyo tossed six shutout innings against the Cubs last time out. It didn't hurt his offense put up 12 runs.
---
Cardinals at Rockies, 8:40 p.m. ET


Jaime Garcia handcuffed the Brewers his last time out, quickly putting to rest an ugly outing the previous appearance when he lasted only two innings against the Royals. Aaron Cook finally got some from his offense; after scoring just three or fewer runs in four previous starts, the Rockies scored seven times to give Cook his first win since May 29.
---
Marlins at Dodgers, 10:10 p.m. ET


Josh Johnson has given up more than one run in a start just once since May 8. Back then, his ERA stood at 3.35. He heads into this start against the Dodgers with it resting at a baseball-best 1.82. Hiroki Kuroda carved up the Marlins in his first start of the year on April 9, not permitting an earned run in eight innings.
The rest of Wednesday's schedule »