Infante's value combines a little of everything

By Tim Kurkjian
ESPN The Magazine
Archive
It was shocking when it was announced Sunday that Braves utility man
Omar Infante
, who was tied for 167th in the National League in OPS, had made the All-Star team ahead of, among others,
Joey Votto
, who was leading the NL in OPS. Even Infante thought it was a joke. How can you make the All-Star team without starting for your team?
[+] Enlarge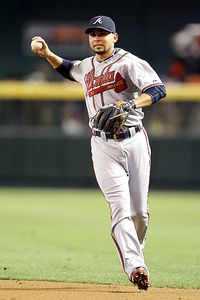 Christian Petersen/Getty ImagesOmar Infante has played five different positions for the Braves this season.
To place all the blame on Infante is preposterous. To ridicule him is unfair. He has done nothing wrong. He is who he is: a 28-year-old utility guy, "a good player,'' said Braves manager Bobby Cox. Infante is hitting .305 this season. He has played second base, third, shortstop, left field and right field. In the post-steroids era in which teams are looking for new ways to score runs, and defend better, every team has someone like Infante, but most teams don't have anyone who does what he does as well as he does: play the middle infield and the corner outfield whenever called upon, and get a hit coming off the bench in a key spot. If there is blame to be assigned, blame Phillies manager Charlie Manuel, who will manage the NL All-Stars. But Manuel's motives were pure and understandable: He needed a backup shortstop, and now that the All-Star Game counts, and now that there's a re-entry rule, Infante is the perfect guy to keep available until the late innings in case a defensive replacement is required in the infield or the outfield, or a pinch runner is needed. If there's blame to be assigned, blame Major League Baseball. It could have determined that each team must select a utility player in case a team ran out of players, as happened in the 2002 All-Star Game in Milwaukee when the game was called a tie after 11 innings. Infante is going to the All-Star Game. He shouldn't have to apologize for that. This is his eighth major league season for Detroit and Atlanta, he has a career .267 average and a reputation for doing whatever it takes for his team to win. He will now have one more All-Star appearance than Kirk Gibson, but Gibson has one more MVP, and Infante will join
Omar Vizquel
as the only players named Omar ever to make an All-Star Game. Let him enjoy it.
Tim Kurkjian is a senior writer for ESPN The Magazine and is an analyst for "Baseball Tonight"
Baseball Tonight Live
"Baseball Tonight" analysts, ESPN.com writers and SweetSpot Network bloggers chatted and gave their in-game opinions throughout the day's games -- all in Baseball Tonight Live.
Touch 'Em All

Who went deep? Keep track of all the home runs hit each day on "Baseball Tonight" and the Baseball Tonight Clubhouse page. For more, check out the Home Run Tracker page.
| NAME | HR | OPP | SITUATION | Pitcher |
| --- | --- | --- | --- | --- |
| Adam Dunn, WAS | 18 | SD | Bot 1: 1-0, 0 Outs. 2 on. | Garland |
| Adam Dunn, WAS | 19 | SD | Bot 3: 0-0, 0 Outs. None on. | Garland |
| Martin Prado, ATL | 9 | PHI | Top 1: 1-1, 0 Outs. None on. | Moyer |
| Martin Prado, ATL | 10 | PHI | Top 6: 3-2, 1 Out. None on. | Moyer |
| Evan Longoria, TB | 13 | BOS | Bot 4: 2-2, 0 Outs. None on. | Wakefield |
BASEBALL TONIGHT ON THE AIR
THURSDAY
10 p.m. ET on ESPN
Host: Karl Ravech
Analysts: Chris Singleton, Tim Kurkjian, J.P. Ricciardi, Eduardo Perez
12 a.m. ET on ESPN
Host: Steve Berthiaume
Analysts: J.P. Ricciardi
WEB GEMS LEADERBOARD

This season, "Baseball Tonight" will be tracking Web Gems. Points will be calculated by awarding five points for the night's top defensive play, four points for second, three for third, two for fourth and one for fifth. Scoring will be based on fan voting of the previous night's gems (from the last "Baseball Tonight" each night).
WEDNESDAY'S BEST AND WORST
BEST
Adam Dunn, 1B, Nationals

Dunn
Dunn went deep three times against the Padres, and the Nationals needed them all in a 7-6 win. It marked the first time in his career Dunn, who went 3-for-4 and drove home five of Washington's runs, connected on three homers in one game.
---
WORST
Chris Narveson, LHP, Brewers

Narveson
You have to be good to beat Tim Lincecum. The Brewers were not. Narveson gave up nine hits, 10 runs and three homers in 3 1/3 innings of Milwaukee's 15-2 pounding at home against the Giants. All told, the seven Brewers pitches gave up 18 hits.
THURSDAY'S BEST MATCHUPS
Cardinals at Rockies, 3:10 p.m. ET


This one leads the marquee -- Ubaldo Jimenez (14-1, 2.27 ERA) against Chris Carpenter (9-2, 3.16 ERA). Jimenez has not lost since his lone defeat on May 9; Carpenter lost for the first time since May 13 in his most recent outing.
---
Reds at Phillies, 7:05 p.m. ET


Reds starter Johnny Cueto has allowed a total of four runs over his past four starts, stretching across 25 2/3 innings. The offense hasn't done its part; Cincinnati has lost two of those games.
---
Yankees at Mariners, 10:10 p.m. ET


Andy Pettitte has not yet lost away from Yankee Stadium, going 3-0 with a 2.59 ERA on the road. The Mariners' Jason Vargas has lost his past two starts, but then, Seattle has scored one whole run for him in those two outings.
The rest of Thursday's schedule »