How will Padres react when adversity strikes?
We see it every year: A team snags the division lead at the All-Star break only to collapse in the second half. So far, the
San Diego Padres
have zoomed through the first half of the season, posting a National League West-leading 50-35 record. So why do I think they're ripe for a second-half stumble? For starters, they play in one of the deepest divisions in baseball. Currently, four teams sit within five games of the lead, including the
Colorado Rockies
, who are a notoriously good second-half team. The Rockies have experienced this before; they know how to win when it matters. San Diego can't let them stay in the NL West picture.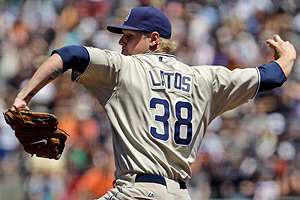 AP Photo/Marcio Jose SanchezMat Latos, 22, leads the Padres in wins (10), ERA (2.45) and strikeouts (99).
Count on the
Los Angeles Dodgers
being in the mix down the stretch, too. These are teams that, on paper, are far superior to San Diego. The Padres have a lot of games left against the Rockies and Dodgers -- 22, to be exact. And, really, any team in the NL West -- with the exception of the
Arizona Diamondbacks
-- can get hot and jump into the lead. Regardless of who it is, teams are going to play the Padres a lot tougher knowing the success they had in the first half. They were a combined 48 games under .500 in 2008 and '09, but now they're contenders, and other teams are starting to realize that. With the Padres, you know what they have offensively.
Adrian Gonzalez
always has been the team's focus, and this season has been no different. He leads the Padres in nearly every major offensive category -- batting average (.300), home runs (17), RBIs (54), on-base percentage (.396), OPS (.926), and on and on. I'm not concerned with Gonzalez wearing down, but he does need some help. The Padres have to be players at the trade deadline for another bat -- someone who can consistently contribute in their pitcher-friendly ballpark. In the past, a lot of offensive players have gone to play in Petco Park and haven't been able to live up to expectations. But what concerns me most about San Diego is its young pitchers. Can they continue to withstand the pressures of low-scoring, tight games -- which there will be plenty more of in Petco? A lot of these young starters haven't been in many pressure situations in the big leagues.
Mat Latos
is the perfect example. His 10-4 record and 2.45 ERA are a big reason for the Padres' success, but he is only 22 years old. This has to be a concern for the team's front office. The Padres need to go out and acquire another veteran starter at the trade deadline to offset their youth.
Jon Garland
is really their only starter with a lot of big-game experience. Don't get me wrong,
Heath Bell
and the other pitchers in the bullpen have been great thus far. So, too, have most of the starters. This team is built on speed and pitching. The speed isn't going anywhere. The players are always going to cover a ton of ground in that outfield, but the pitchers have to be able to withstand the rigors of the second half. It's a long season; it's a grind -- and it's even harder playing with the division lead. This team has yet to go through a rut. It hasn't endured a losing streak of more than three games in the first half. San Diego has played consistent baseball, and one of the hardest things to do is maintain that consistency throughout the year. We won't know whether the Padres can realistically contend for the NL West title until we see how their young players respond to being in a slump.
Eduardo Perez is an analyst for "Baseball Tonight."
Baseball Tonight Live
"Baseball Tonight" analysts, ESPN.com writers and SweetSpot Network bloggers chatted and gave their in-game opinions throughout the day's games -- all in Baseball Tonight Live.
Touch 'Em All

Who went deep? Keep track of all the home runs hit each day on "Baseball Tonight" and the Baseball Tonight Clubhouse page. For more, check out the Home Run Tracker page.
| NAME | HR | OPP | SITUATION | Pitcher |
| --- | --- | --- | --- | --- |
| Jose Bautista, TOR | 23 | MIN | Bot 8: 2-1, 0 Outs. None on. | Mahay |
| Joey Votto, CIN | 22 | PHI | Top 1: 2-1, 2 Outs. None on. | Kendrick |
| Josh Hamilton, TEX | 22 | BAL | Bot 3: 0-1, 1 Out. None on. | Guthrie |
| Aubrey Huff, SFO | 17 | MIL | Top 3: 0-2, 0 Outs. 1 on. | Parra |
| Carlos Pena, TB | 17 | CLE | Bot 3: 1-1, 2 Outs. None on. | Westbrook |
BASEBALL TONIGHT ON THE AIR
FRIDAY
12 a.m. ET on ESPN
Host: Steve Berthiaume
Analyst: Eduardo Perez
WEB GEMS LEADERBOARD

This season, "Baseball Tonight" will be tracking Web Gems. Points will be calculated by awarding five points for the night's top defensive play, four points for second, three for third, two for fourth and one for fifth. Scoring will be based on fan voting of the previous night's gems (from the last "Baseball Tonight" each night).
THURSDAY'S BEST AND WORST
BEST
John Danks, LHP, White Sox

Danks
Danks tossed a complete game, two-hit shutout in the White Sox's 1-0 victory over the Angels. The lefty struck out seven and walked none to snap a personal two-game losing streak. The win also pushed the White Sox to within a half-game of first place in the AL Central.
---
WORST
George Kottaras, C, Brewers

Kottaras
Kottaras struck out three times in five at-bats and in the process stranded six baserunners in the Brewers' 9-3 loss to the Giants. The Milwaukee defeat also finished off a four-game sweep for San Francisco and pushed the Brewers' losing streak to five games.
FRIDAY'S BEST MATCHUPS
Giants at Nationals, 7:05 p.m. ET


Rookie phenom Stephen Strasburg will get the start for the Nationals, his seventh of the season. He's winless in each of his past four starts, during which time he's allowed a total of seven earned runs. Matt Cain will counter for the Giants. He's also winless in each of his past four starts, during which time he's compiled a 6.56 ERA.
---
Twins at Tigers, 7:05 p.m. ET


Francisco Liriano was roughed up in his last start against the Tigers, allowing six runs in six innings in a 7-5 loss June 28. Justin Verlander is coming off a strong performance in his last start, when he struck out 10 and gave up one run in seven innings in a 6-1 win over the Mariners.
---
Braves at Mets, 7:10 p.m. ET


The top two teams in the National League East will square off in the opener of a three-game series. Tommy Hanson will go for the Braves. Opponents are batting .288 against Hanson in eight road starts this season. Knuckleballer R.A. Dickey will start for the Mets. He's allowed three or fewer runs in five of his past six starts.
The rest of Friday's schedule »