Wide open second half looming

By Karl Ravech
ESPN
Archive
So
Cliff Lee
is now a Texas Ranger. Which means the Rangers are now in the same class as the Yankees, Red Sox, Rays, Tigers, Rockies, Phillies, Mets, Cardinals, Marlins and Giants. What all these teams have in common is each has at least one ace in
CC Sabathia
,
Jon Lester
,
Justin Verlander
,
Ubaldo Jimenez
,
Johan Santana
,
Chris Carpenter
and
Adam Wainwright
, and
Josh Johnson
and
Tim Lincecum
. In baseball, aces don't guarantee wild-card berths, let alone division titles, especially when you consider that division leaders Atlanta, Cincinnati and San Diego don't have a pitcher with the credentials of the guys mentioned above. Texas now has Lee, which means it has a legitimate fighter's chance. Lee gives Texas instant credibility, which certain teams lack and what leads most to look at the Reds, Padres and Braves with a hint of skepticism.
[+] Enlarge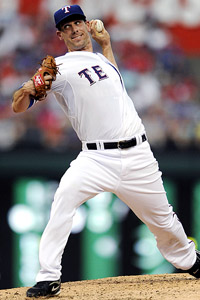 AP Photo/Cody DutyThe Rangers, by adding Cliff Lee, have that ace so many of the elite teams have.
While the Yankees may feel like the rug was slipped out for underneath them in the Lee deal, and it may have been, it has been my belief that the Rangers were always the front-runner in this race and it was not because they had the most to give. In order for Major League Baseball to be credible in its efforts to support the Rangers, and the Rangers are hardly the first team which has been supported financially or otherwise by the league, it had to do everything within reason to ensure that the Rangers' efforts to acquire Lee were as legitimate as any other team's, in fact perhaps even more so. Texas is not the first and won't be the last franchise to confront difficult financial challenges, and time and time again MLB has been the parachute which has allowed the franchises to land softly. This is just the latest example, and given the fact that Texas and MLB did not absorb an unreasonable financial hit, this is perhaps the most appropriate way for the Lee deal to have gone down. With Lee in Texas, the second half portends to be a shootout in every division. Should the Red Sox survive the first month after the break, they will continue to make the AL East a three-team race. The Rays will make a move before the deadline, if for no other reason than to elevate a fragile balance within the clubhouse and in the stands. In the AL Central, the White Sox have been the great survivors. While
Jake Peavy
's numbers were not off the charts, he had show signs of regaining his form. Given his injury, it would be easy to write off Ozzie Guillen's team but considering it has managed to stay in the race this long, it is unwise not to also give it a fighter's chance in the race with Minnesota and Detroit. The National League East has been the deepest and best division and will continue to be in the second half of the season. The Mets will be even better given the return of
Carlos Beltran
, and the Marlins may trade some pieces, though the strength of the team lies in its starting pitching. It's hard to imagine any of those guys moving. The Phillies will charge at the Braves, and Atlanta will use manager Bobby Cox's last dance as a motivator, not that guys like
Jason Heyward
,
Chipper Jones
,
Brian McCann
and
Tim Hudson
need extra motivation. Will the Reds be able to hold off St. Louis? Fascinating race in the NL Central. Can't wait to see what, if anything,
Edinson Volquez
can bring to the table. How will
Mike Leake
hold up in August and September? Cincinnati's offense is clearly better than the Cardinals', and yet St. Louis has Tony La Russa, Carpenter and Wainwright and that Pujols guy. I am looking forward to this race more than any other. While I no longer doubt the legitimacy of San Diego, I still feel like this is the Rockies' division to win. Remember this pre-All-Star push has come without
Troy Tulowitzki
. Jimenez will need help in the rotation, but Dexter Fowler's apparent improvement is enormous both offensively and defensively. These late-inning heroics happen for a reason, and one of the reasons is to guarantee they will be alive in late September. If the Dodgers could take their best traits and combine them with San Francisco's, then we'd have something, but individually I don't see either as legitimate contenders when compared with Colorado and San Diego. I have been wrong before, and will be again when this piece is guaranteed not to have the same tone at the end of this month and after the trade deadline, when the general managers' report cards will be issued and teams chances will truly be established.
Karl Ravech is a host for for "Baseball Tonight"
Baseball Tonight Live
"Baseball Tonight" analysts, ESPN.com writers and SweetSpot Network bloggers chatted and gave their in-game opinions throughout the day's games -- all in Baseball Tonight Live.
Touch 'Em All

Who went deep? Keep track of all the home runs hit each day on "Baseball Tonight" and the Baseball Tonight Clubhouse page. For more, check out the Home Run Tracker page.
| NAME | HR | OPP | SITUATION | Pitcher |
| --- | --- | --- | --- | --- |
| Matt Holliday, STL | 16 | HOU | Top 4: 0-1, 1 Out. 2 on. | Rodriguez |
| Aaron Hill, TOR | 12 | BOS | Bot 7: 0-0, 0 Outs. 1 on. | Matsuzaka |
| David Ortiz, BOS | 18 | TOR | Top 6: 1-2, 2 Outs. None on. | Litsch |
| Carlos Quentin, CHW | 18 | KC | Bot 3: 3-1, 2 Outs. None on. | Lerew |
| Carlos Quentin, CHW | 19 | KC | Bot 6: 0-0, 1 Out. Grand Slam. | Marte |
BASEBALL TONIGHT ON THE AIR
FRIDAY
10 p.m. ET on ESPN
Host: Steve Berthiaume
Analysts: Doug Glanville, Buck Showalter, Dave Winfield, Buster Olney
12 a.m. ET on ESPN
Host: Steve Berthiaume
Analysts: Dave Winfield
WEB GEMS LEADERBOARD

This season, "Baseball Tonight" will be tracking Web Gems. Points will be calculated by awarding five points for the night's top defensive play, four points for second, three for third, two for fourth and one for fifth. Scoring will be based on fan voting of the previous night's gems (from the last "Baseball Tonight" each night).
SUNDAY'S BEST AND WORST
BEST
Carlos Quentin, DH, White Sox

Quentin
Quentin homered twice in a game for the second consecutive day. He went 2-for-4 and drove home five runs in the White Sox's 15-5 win over the Royals. The day before, he went 2-for-4 with the two homers and drove home three runs. Quentin closed the first half with at least two hits in four of his final five games.
---
WORST
Anthony Lerew, RHP, Royals

Lerew
Quentin wasn't the only one who teed off on Royals pitching. After all, the White Sox scored 15 times and pounded out 18 hits in the win. There were a few ugly lines, but the worst belonged Lerew, who started the mess. He gave up nine hits -- four of them homers -- and eight runs in only 2 2/3 innings of work for his second consecutive loss.