Morneau out is a big headache for Twins

By Tim Kurkjian
ESPN
Archive
The Twins are always good for a variety of reasons, but none bigger than having a middle of the order with two great left-handed hitters --
Joe Mauer
and
Justin Morneau
-- who make contact and can hit right-handers and left-handers. However, the Twins are in some trouble now because Morneau suffered a concussion July 7 and is likely at least a week from playing.
[+] Enlarge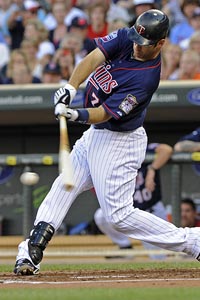 AP Photo/Jim MoneJoe Mauer remains in the middle of the Twins' order. When he will have Justin Morneau back next to him is unclear.
Morneau suffered the concussion when he was hit in the head by a knee as he was sliding into a base. After Minnesota lost that day, the Twins went 4-7 before rattling off a 6-0 win Wednesday against the Indians. Before Morneau went down, the Twins were tied for first place in the American League Central; now they trail the White Sox by 2½. Morneau was building another MVP season, hitting .345 with 18 home runs and 56 RBIs. The Twins haven't been the same without him, especially offensively. On Tuesday morning, Morneau saw a concussion specialist in Minneapolis. Twins general manager Bill Smith said that Morneau "continues to make progress, but he is not ready to resume baseball activities.'' Morneau did not accompany the team on the trip to Baltimore on Wednesday night. "Our first concern is his future and his health," Smith said. "We want him to make a full recovery from this. His career comes second." Morneau is a really tough guy who has been very durable in his career. He grew up in Canada and was good enough that he had to decide whether to make a career out of baseball or hockey. But a concussion is a different story, especially in baseball. It is the hardest game in the world to play even when everything is working properly, but when your head isn't clear, if anything is fuzzy, if there's any dizziness, you simply can't play. Maybe Morneau's head will clear in a week, and he will return to the lineup, start hitting immediately and help lead the Twins back to the playoffs. But you can't predict anything with a concussion. In the meantime, the Twins will hope their deep bench can fill in as capably as possible for Morneau, or maybe they'll make a deal for a front-line pitcher before the July 31 trade deadline. They might need to do that, but even if they acquire help for their rotation, they're not going to catch the White Sox without Morneau in the lineup.
Tim Kurkjian is a senior writer for ESPN The Magazine and an analyst for "Baseball Tonight."
Baseball Tonight Live
"Baseball Tonight" analysts, ESPN.com writers and SweetSpot Network bloggers chatted and gave their in-game opinions throughout the day's games -- all in Baseball Tonight Live.
Touch 'Em All

Who went deep? Keep track of all the home runs hit each day on "Baseball Tonight" and the Baseball Tonight Clubhouse page. For more, check out the Home Run Tracker page.
| NAME | HR | OPP | SITUATION | Pitcher |
| --- | --- | --- | --- | --- |
| Evan Longoria, TB | 14 | BAL | Top 1: 1-2, 2 Outs. None on. | Bergesen |
| Robinson Cano, NYY | 18 | LAA | Bot 3: 2-0, 1 Out. 1 on. | Pineiro |
| Pedro Feliz, HOU | 6 | CHC | Top 8: 0-1, 0 Outs. None on. | Lilly |
| Adrian Beltre, BOS | 16 | OAK | Top 6: 0-1, 0 Outs. 1 on. | Gonzalez |
| Brian McCann, ATL | 12 | SD | Bot 3: 2-2, 2 Outs. 1 on. | Garland |
BASEBALL TONIGHT ON THE AIR
THURSDAY
10 p.m. ET on ESPN
Host: Karl Ravech
Analysts: Chris Singleton, Doug Glanville, J.P. Ricciardi, Tim Kurkjian
12 a.m. ET on ESPN
Host: Steve Berthiaume
Analysts: Chris Singleton, Doug Glanville, J.P. Ricciardi
WEB GEMS LEADERBOARD

This season, "Baseball Tonight" will be tracking Web Gems. Points will be calculated by awarding five points for the night's top defensive play, four points for second, three for third, two for fourth and one for fifth. Scoring will be based on fan voting of the previous night's gems (from the last "Baseball Tonight" each night).
WEDNESDAY'S BEST AND WORST
BEST
Pedro Alvarez, 3B, Pirates

Alvarez
Alvarez homered twice in Tuesday's win over the Brewers. His encore Wednesday? Two more home runs, of course. Alvarez went 3-for-5, homered twice and drove home three as the Pirates scored in double digits for a second consecutive game in a 15-3 thumping of Milwaukee.
---
WORST
Scot Shields, RHP, Angels

Shields
Joel Pineiro wasn't good against the Yankees; he gave up 11 hits and six runs in six innings. Shields was worse. He gave up four runs and four hits -- two of them homers -- in only one inning of the Angels' 10-6 loss. The bad outing came out of nowhere; Shields gave up three runs in all of June and only one in five July appearances before making a mess of things Wednesday.
THURSDAY'S BEST MATCHUPS
Rockies at Marlins, 1:05 p.m. ET


Josh Johnson has lost once in eight starts since May 29. In that one loss, he was beaten 2-1, which marked the most runs he's given up during the stretch. Over his past two starts, he hasn't given up a run and has struck out 15 against only one walk.
---
Nationals at Reds, 12:30 p.m. ET


Edinson Volquez's first start of the year couldn't have gone much better. He struck out nine, gave up three hits and permitted one run in six innings of an 8-1 win against Colorado. Now he tries his hand against the Nationals.
---
Angels at Rangers, 8:05 p.m. ET


The Rangers do in fact have a bullpen. Cliff Lee just hasn't needed it. Lee has tossed complete games in both his outings with Texas but hasn't won either. He lost a 6-1 game in his debut against Baltimore and 3-2 seven days later against the Red Sox.
The rest of Thursday's schedule »