Hear the words, because Ozzie is making sense

By John Kruk
ESPN
Archive
Ozzie Guillen ruffled some feathers Sunday when he complained about the unfair treatment of Latin American players versus Japanese players -- but I couldn't agree with his observation more. I have always felt like the treatment of Latino players is an ongoing problem. I remember how awkward it was for me the first year I played winter ball in Mexico. Someone who couldn't speak a word of English picked me up from the airport. He dropped me off at the hotel, and someone knocked on my door the next afternoon and said, "Practice." So I went to practice without knowing a soul on the team. I didn't know how to order food or anything. Fortunately, I knew how to say "taco" so I ate nothing but tacos for a while until a couple of the Mexican-born players finally helped me learn the language.
[+] Enlarge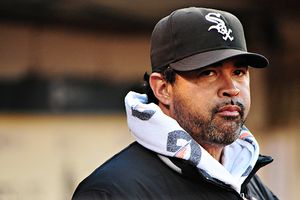 Kyle Terada/US PresswireOzzie Guillen was able to adjust more easily to the U.S. and the majors because he was outgoing. It's not that easy for everyone.
Guillen and I came up together in the minor leagues, and I witnessed firsthand how Latin American players were treated. They weren't necessarily mistreated; they just weren't treated at all. No one helped them adapt. Whenever we broke camp, everyone would break off into segregated groups. The Latin players roomed together and ate together. There was no mingling among different groups. However, Guillen was different. He wasn't afraid to be in America and he tried to learn English as quickly as he could. He asked so many questions that I don't know how many times I had to tell him to shut up. He had an advantage because he was outgoing, personable and loved to talk. Imagine being 18 years old, and someone throws you in a foreign country and says, "Here, go make a living." It can be very intimidating, to say the least. The biggest difference between Asian and Latino players is money. Most of the time, when a Korean or Japanese player comes to America, he already has established himself as a star player and goes straight to the big leagues. In most cases, teams feel more inclined to get the "star" player accustomed to the U.S. because he's going to help the team immediately.
A lot of Latino major league-caliber players never make it to the major leagues because they have trouble learning English. Unfortunately, it's more common for teams to look down on a player who is reluctant to learn English. Not to mention Latino players usually make a fraction of what their Japanese counterparts are bringing in. I wouldn't call Guillen's comments a rant; I think he was just airing out his beliefs. It's time someone stood up for the Latino players. The unfair treatment of Latino players is not a league issue; it is an individual team problem. If I were running a team, I would consider the number of Latin American players who have dominated the sport and would do everything in my power to make sure they were as comfortable as possible. The payoff for taking the time to help your players adapt is priceless. If Latino players were eligible for the amateur draft, the league would be very different. Do you think
Ubaldo Jimenez
was treated as well as
Stephen Strasburg
when he first signed? Think about it: If Jimenez pitched in college in the United States like Strasburg and scouts saw his changeup at 91 mph, he would have gotten carte blanche. And people have the audacity to say there's no difference in how players are treated? They couldn't be more wrong.
John Kruk is an analyst for "Baseball Tonight."
Baseball Tonight Live
"Baseball Tonight" analysts, ESPN.com writers and SweetSpot Network bloggers chatted and gave their in-game opinions throughout the day's games -- all in Baseball Tonight Live.
Touch 'Em All

Who went deep? Keep track of all the home runs hit each day on "Baseball Tonight" and the Baseball Tonight Clubhouse page. For more, check out the Home Run Tracker page.
| NAME | HR | OPP | SITUATION | Pitcher |
| --- | --- | --- | --- | --- |
| Albert Pujols, STL | 26 | HOU | Bot 4: 2-2, 0 Outs. None on. | Myers |
| Mark Teixeira, NYY | 22 | TOR | Bot 5: 2-0, 2 Outs. 1 on. | Morrow |
| Adrian Beltre, BOS | 18 | CLE | Bot 7: 0-0, 0 Outs. None on. | Carmona |
| Chipper Jones, ATL | 8 | NYM | Bot 7: 1-1, 1 Out. None on. | Santana |
| Vernon Wells, TOR | 21 | NYY | Top 2: 1-0, 0 Outs. None on. | Burnett |
BASEBALL TONIGHT ON THE AIR
TUESDAY
10 p.m. ET on ESPN
Host: Karl Ravech
Analysts: John Kruk, Buster Olney, Bobby Valentine
12 a.m. ET on ESPN
Host: Karl Ravech
Analysts: John Kruk, Bobby Valentine
WEB GEMS LEADERBOARD

This season, "Baseball Tonight" will be tracking Web Gems. Points will be calculated by awarding five points for the night's top defensive play, four points for second, three for third, two for fourth and one for fifth. Scoring will be based on fan voting of the previous night's gems (from the last "Baseball Tonight" each night).
MONDAY'S BEST AND WORST
BEST
Prince Fielder, 1B, Brewers

Fielder
A lot of Brewers had a good day against Cubs pitchers; after all, Milwaukee won 18-1. But Fielder led the way, going 5-for-7 with five RBIs. Ryan Braun also had five hits and Corey Hart had four. But it was Fielder who need the big day. He hadn't had an RBI since July 22, a stretch of 10 games.
---
WORST
Randy Wells, RHP, Cubs

Wells
Well, somebody had to give up all those runs to the Brewers. And on this day, there were plenty of culprits as the Cubs gave up 26 hits -- 22 of them singles -- in the 18-1 loss. Well started the whole miss, giving up 10 hits and seven runs in four innings.
TUESDAY'S BEST MATCHUPS
White Sox at Tigers, 1:05 and 7:05 p.m. ET


This is a big series for the Tigers, who enter seven behind the White Sox in the American League Central. Detroit starter Rick Porcello, who goes in the first game, has not won since May 23, going 0-5 in seven starts. Mark Buehrle, meanwhile, is coming off his best month of the season -- he went 3-1 with a 3.00 ERA in July.
---
Phillies at Marlins, 7:10 p.m. ET

After a rough outing against the Cubs, Roy Halladay has permitted one run in his past two starts, spanning 17 innings. In those two starts, he had 18 strikeouts against just one walk. The Marlins' Sean West will be making his first start of the season.
---
Giants at Rockies, 8:40 p.m. ET


Giants starter Jonathan Sanchez is on a run of no-decisions, having strung together five since beating the Brewers on July 5. Aaron Cook's past two starts have not gone well. He's given up 15 hits and 10 runs in seven innings of work against the Pirates and Phillies.
The rest of Tuesday's schedule »