Phillies trying to fight back the pain
Predicting the final standings in the NL East right now is a little like solving a jigsaw puzzle without all the pieces. The Braves hold a two-game lead over the injury-riddled Phillies. But if Philadelphia manager Charlie Manuel can get some of his key players back by mid-August, you can expect Philadelphia to finish first. We know he lost a key piece Tuesday when first baseman
Ryan Howard
was placed on the 15-day disabled list because of moderately sprained left ankle. Atlanta made a great move by acquiring outfielder
Rick Ankiel
and proven relief pitcher
Kyle Farnsworth
from Kansas City, but you have to remember all the things working in Philadelphia's favor. I like the way the Braves are playing, but this division race is far from over.
[+] Enlarge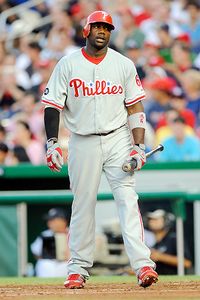 Greg Fiume/Getty ImagesThe Phillies' disabled list got a little more crowded with the addition of Ryan Howard.
Consider that when half your roster is injured, which is what faces the Phillies these days, you can play games as though you have nothing to lose. Howard is now the 15th Phillie to head to the DL this season, and he joins
Chase Utley
and
Shane Victorino
there now. Phillies fans have the luxury of the "things can only go up from here" mentality right now. The Phillies have the advantage at the top of the rotation; I'd take
Roy Halladay
,
Roy Oswalt
and
Cole Hamels
over
Tim Hudson
,
Tommy Hanson
and
Jair Jurrjens
any day. When it comes to bullpens, Atlanta certainly has the edge. The group owns the second-best ERA in the NL, while the Phillies stand 10th. But while throwing him can be sometimes like flipping a coin, don't count out Philly closer
Brad Lidge
. He found his way toward the end of the season last year. He's been through the ups and downs of a season enough to be able to navigate things and, ultimately, he'll settle in. Plus, he's been on the DL twice himself this season, and has pitched in only 25 games. And let's not forget Philadelphia is a "second-half team." Just as some teams manage to make a name for themselves by falling off in crunch time (see: Mets), the Phillies are known for finding a way to turn things around. Tracking down first-place teams seems to be their specialty, and increasingly more likely when
Raul Ibanez
and
Jayson Werth
are hitting. Both are coming off solid months -- Ibanez hit .337 in July; Werth was at .305. Of course all of this seems speculative without knowing if Howard's ankle will respond quickly enough for him to return as soon as his 15 days on the DL are up. If he's out longer, the Phillies are in trouble and it'll be next to impossible for them to overcome the Braves. If he's out for no more than two weeks, and the timetables are accurate for the returns of Chase Utley and Shane Victorino, I think the Phillies will be in good enough shape to knock off Atlanta. Philly is a sleeping, injured giant. When the Phillies start to stir, watch out.
Chris Singleton is an analyst for "Baseball Tonight."
Touch 'Em All

Who went deep? Keep track of all the home runs hit each day on "Baseball Tonight" and the Baseball Tonight Clubhouse page. For more, check out the Home Run Tracker page.
| NAME | HR | OPP | SITUATION | Pitcher |
| --- | --- | --- | --- | --- |
| Mark Teixeira, NYY | 23 | TOR | Bot 1: 1-2, 1 Out. 1 on. | Romero |
| Dan Uggla, FLA | 24 | PHI | Bot 2: 2-2, 0 Outs. None on. | Halladay |
| Juan Pierre, CHW | 1 | DET | Top 5: 1-1, 0 Outs. None on. | Porcello |
| Mike Lowell, BOS | 3 | CLE | Bot 2: 0-0, 0 Outs. 1 on. | Huff |
| Sean Rodriguez, TB | 7 | MIN | Bot 1: 1-2, 2 Outs. 2 on. | Duensing |
Wednesday's Best Matchups
White Sox at Tigers, 7 p.m. ET, ESPN


The two split a doubleheader Tuesday, meaning the White Sox still lead the third-place Tigers by eight games in the AL Central. Edwin Jackson, acquired from the Diamondbacks, will make his first start with the White Sox. Armando Galarraga hasn't won since June 24, going 0-2 in five starts.
---
Twins at Rays, 7:10 p.m. ET


David Price pitched well over eight innings in early July against the Twins, but suffered the loss in a 2-1 defeat at Target Field. The pitcher who bested Price that day? That would be Scott Baker, who takes the mound opposite Price again. After losing four of five, Baker has won his past two starts.
---
Astros at Cardinals, 8:10 p.m. ET


J.A. Happ, dealt to the Astros in the deal that sent Roy Oswalt to the Phillies, makes his second start for Houston. The Astros only hope it goes as well as the first one, in which Happ tossed six shutout innings in a 5-0 win against Milwaukee. He faces Chris Carpenter, who has allowed more than one run once in four starts, and that time he gave up only three in a game the Cardinals won.
The rest of Wednesday's schedule »
BASEBALL TONIGHT ON THE AIR
WEDNESDAY
10 p.m. ET on ESPN
Host: Karl Ravech
Analysts: John Kruk, Buster Olney, Bobby Valentine
12 a.m. ET on ESPN
Host: Steve Berthiaume
Analysts: Bobby Valentine
WEB GEMS LEADERBOARD

This season, "Baseball Tonight" will be tracking Web Gems. Points will be calculated by awarding five points for the night's top defensive play, four points for second, three for third, two for fourth and one for fifth. Scoring will be based on fan voting of the previous night's gems (from the last "Baseball Tonight" each night).
TUESDAY'S BEST AND WORST
BEST
Ricky Romero, LHP, Blue Jays

Romero
Romero gave up a two-run homer to Mark Teixeira in the first, but nothing after that in tossing a complete-game in an 8-2 win over the Yankees at Yankee Stadium. Romero struck out four and walked two for his second consecutive win.
---
WORST
LaTroy Hawkins, RHP, Brewers

Hawkins
Hawkins' time pitching for the Cubs wasn't all that pleasant. This experience at Wrigley Field, with the Brewers, wasn't pleasant, either. In relief, he recorded one out but gave up four hits, three runs and one homer in Milwaukee's 15-3 loss to the Cubs.