Twins find themselves in familiar position
The
Minnesota Twins
are an organization that has built its reputation on consistency. Their logical approach to the game is demonstrated by their players in both the rookie league and major league. After a solid showing in July, the Twins are right back where we expect them to be: sitting in a first-place tie with the White Sox as they head to Chicago for a big three-game series. Minnesota's concepts filter right down from manager Ron Gardenhire all the way to their instructional league programs. The Twins seek players who know how to play the game without much flair. I like to describe it as "a business-like Minnesotan style of play." They get to work on time, play hard and try to do the little things properly.
[+] Enlarge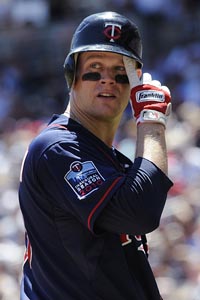 AP Photo/Jim MoneThe Twins haven't had Justin Morneau since early July, yet here they are still tied for the AL Central.
Since the All-Star break, the Twins have been a different team. They've gone from third place to second, their defense has turned into an exceptional part of their game and they lead the league with the fewest errors and make what appear to be the fewest mental errors of any team in baseball. Keep in mind that they have managed to do all of that without All-Star first baseman
Justin Morneau
, who hasn't played a game since July 7, and with shortstop
Nick Punto
on the 15-day DL with a strained hamstring. Minnesota pitchers are taught to pitch to contact and not try to overwhelm hitters with their stuff. Instead they focus on trying to get a hitter out by using location and finesse. Twins pitching coach Rick Anderson pitched that way and he believes that it's the way to be successful, and it has proven to be a fabulous formula for the team.
Carl Pavano
has moved on from his days with the Yankees and he's turned into one of the true leaders on the Twins' staff. He's had 19 wins since June 2009, which is an incredible amount and he's done it by pitching according to the gospel of Rick Anderson. Pavano excels by pitching to a hitter's weakness and not trying to dominate them. The 34-year-old has made an aggressive comeback since he was acquired from the Indians last summer, racking up a 3.71 ERA over 35 starts. No matter how you look at it Pavano's leadership has contributed not only to his own development, but also his teammates. The front office believes in scouting and player development first -- and their goal is to spend a share of the budget on developing and finding that talent. However, that talent must fit the Twins' mold. On the field they've been fortunate to develop very good players. Their offense has been very capable of scoring enough runs to keep Minnesota in contention and it looks like they'll be in the thick of the pennant race right until the very end.
Bobby Valentine is an analyst for "Baseball Tonight."
Baseball Tonight Live
"Baseball Tonight" analysts, ESPN.com writers and SweetSpot Network bloggers chatted and gave their in-game opinions throughout the day's games -- all in Baseball Tonight Live.
Touch 'Em All

Who went deep? Keep track of all the home runs hit each day on "Baseball Tonight" and the Baseball Tonight Clubhouse page. For more, check out the Home Run Tracker page.
| NAME | HR | OPP | SITUATION | Pitcher |
| --- | --- | --- | --- | --- |
| Mark Teixeira, NYY | 26 | BOS | Bot 8: 3-1, 0 Outs. None on. | Bard |
| Chris Young, ARI | 20 | MIL | Top 3: 3-2, 0 Outs. None on. | Narveson |
| Jason Heyward, ATL | 12 | HOU | Top 3: 1-1, 1 Out. None on. | Norris |
| Matt Joyce, TB | 6 | DET | Top 3: 1-1, 0 Outs. None on. | Galarraga |
| Skip Schumaker, STL | 4 | CIN | Top 4: 0-0, 0 Outs. Grand Slam. | Leake |
BASEBALL TONIGHT ON THE AIR
TUESDAY
10 p.m. ET on ESPN
Host: Karl Ravech
Analysts: Bobby Valentine, John Kruk, Chris Singleton
12 a.m. ET on ESPN
Host: Karl Ravech
Analysts: John Kruk
WEB GEMS LEADERBOARD

This season, "Baseball Tonight" will be tracking Web Gems. Points will be calculated by awarding five points for the night's top defensive play, four points for second, three for third, two for fourth and one for fifth. Scoring will be based on fan voting of the previous night's gems (from the last "Baseball Tonight" each night).
MONDAY'S BEST AND WORST
BEST
Bobby Abreu, LF, Angels

Abreu
Abreu had a big day out of the leadoff spot, going 3-for-5 with a double, a homer and four RBIs in the Angels' 6-4 win over the Royals. Abreu entered the game without great numbers in his limited time in No. 1 spot; he was 2-for-12 with one RBI before breaking out against Kansas City.
---
WORST
Kyle Farnsworth, RHP, Braves

Farnsworth
The Braves' bullpen had a rough seventh inning, giving up six runs to turn a 4-4 tie into a 10-4 loss against the Astros. Farnsworth started the trouble, giving up the first four runs -- thanks to a pair of hits and a pair of walks -- while recording only one out before giving way to Peter Moylan, who gave up the other two runs without getting an out.
TUESDAY'S BEST MATCHUPS
Marlins at Nationals, 7:05 p.m. ET


Stephen Strasburg, after missing three weeks with shoulder trouble, makes his return. Strasburg won three consecutive starts before heading to the disabled list. One of those wins came when he tossed six shutout innings against the Marlins in a 4-0 Nationals win.
---
Yankees at Rangers, 8:05 p.m. ET


The leaders of the AL East and AL West meet, with A.J. Burnett and C.J. Wilson headed to the hill. Burnett was a late scratch from his Sunday start against the Red Sox because of back spasms. Wilson, meanwhile, is 4-0 over his past five starts.
---
Twins at White Sox, 8:10 p.m. ET


White Sox starter Freddy Garcia has long maintained he enjoys pitching in big games. Well, this classifies as one -- a series opener against the Twins, with whom the White Sox are tied for first place after dropping three of four in Baltimore. Scott Baker, after two straight losses, is coming off three consecutive solid outings.
The rest of Tuesday's schedule »