Adam Wainwright more than just a backup act
The National League has some dominant pitchers, with guys such as
Tim Hudson
,
Ubaldo Jimenez
,
Tim Lincecum
,
Josh Johnson
and
Roy Halladay
. But it's
Adam Wainwright
who has quietly taken the lead in the NL Cy Young race.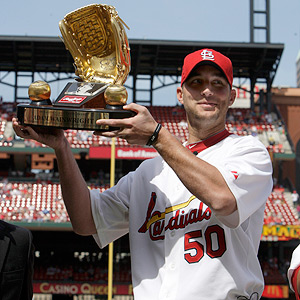 AP Photo/Jeff RobersonAdam Wainwright is a perfect 11-0 at home this year.
It's easy for Wainwright, who pitches Wednesday against the Cincinnati Reds, to get overlooked because he's always linked to this two-headed monster, the one-two pitching punch of him and
Chris Carpenter
. Let's be honest, when you think of the St. Louis Cardinals' pitching staff, you think Carpenter-Wainwright. It's understandable because they're arguably the best one-two pitching combo of the past few years, but thinking of them as a package deal impacts Wainwright's individual recognition. And for what he's done over the past few years, he deserves to be recognized. That being said, I think any talent evaluator, anyone who has to face him and everyone on his team realizes he's on the short, short list of great pitchers. He burst onto the scene in 2006 as a reliever, filling a need for the Cardinals and ultimately closing out four postseason games during St. Louis' World Series title run. From there, he jumped into the rotation full-time. He has gotten better and better every year. His 2007 ERA of 3.70 shrunk to 3.20 in 2008 and 2.63 in 2009. This year? He's posted a 2.07 ERA with an incredible 11-0 record at home as he heads out for his road start against Cincinnati. You would expect that most major league pitchers learn, practice and get better over the course of their careers, but that's not really the case. I think Wainwright's continual improvement -- and success -- is a credit to his talent and his work ethic. He has a great pitching coach in Dave Duncan, but you can tell that he's really worked on his stuff. What makes him great is that he's the ideal pitcher -- a big 6-foot-7 right-hander with a good fastball, but is also versatile. He's unique in that he's a strikeout pitcher who can flip the switch to get ground balls when necessary. Wainwright can bait batters into outs with his sinker early in the count, but he also has the ability to get that strikeout when he needs to. Inducing ground balls allows him to keep his pitch count down and throw deeper into games. He's a lot like Halladay, who has the capability with his two-seam fastball to get early outs on the first couple of pitches of at-bats.
Last year, Wainwright was in a tight race with Lincecum and Carpenter for the NL Cy Young Award. In fact, the 10-point margin that separated first place from third -- Lincecum had 100 points, Carpenter 94 and Wainwright 90 -- was the second-closest in NL history. This year should be similarly close. But if Wainwright continues to pitch the way he has been down the stretch, he'll be taking home that hardware. With the Reds and the Cardinals battling out a close race in the NL Central, Wainwright's sustained success has never been more important. Cincinnati is a bit more athletic than St. Louis and, up and down the lineup they probably have players who are more dangerous swinging the bat. But the Cardinals have a pair of aces the Reds just can't match.
Aaron Boone is an analyst for "Baseball Tonight."
Touch 'Em All

Who went deep? Keep track of all the home runs hit each day on "Baseball Tonight" and the Baseball Tonight Clubhouse page. For more, check out the Home Run Tracker page.
| NAME | HR | OPP | SITUATION | Pitcher |
| --- | --- | --- | --- | --- |
| Dan Uggla, FLA | 26 | WAS | Top 1: 1-2, 2 Outs. 1 on. | Strasburg |
| Carlos Quentin, CHW | 23 | MIN | Bot 2: 0-2, 1 Out. 2 on. | Baker |
| Joe Mauer, MIN | 7 | CHW | Top 2: 0-0, 2 Outs. 1 on. | Garcia |
| Yadier Molina, STL | 5 | CIN | Top 2: 3-2, 1 Out. None on. | Cueto |
| Alcides Escobar, MIL | 3 | ARI | Bot 2: 1-0, 2 Outs. None on. | Enright |
Wednesday's Best Matchups
Cardinals at Reds, 12:35 p.m. ET


The Cardinals and Reds have not gotten along well the past few days, with Cincinnati's Brandon Phillips' pointed remarks about St. Louis and a scuffle early in Tuesday's game. The Cardinals drew into a tie in the NL Central with their win Tuesday and send Adam Wainwright to the mound in search of a win that put St. Louis on top of the division. Wainwright is 1-1 with a 4.15 ERA in two starts against the Reds this season.
---
Yankees at Rangers, 8:05 p.m. ET, ESPN


Cliff Lee has gone at least eight innings in every start since joining the Rangers. In fact, Lee has gone at least eight innings in all but one start since May 28, a span of 14 outings. Lee tossed a complete game earlier this year against the Yankees in a 7-4 win when Lee pitched in Seattle.
---
Twins at White Sox, 8:10 p.m. ET


The Twins jumped on White Sox starter Freddy Garcia in the series opener on Tuesday to take over sole possession of first place in the AL Central. Glen Perkins, who made 17 starts for the Twins last season, will make his first major league start of the year. The White Sox's John Danks has given up one or zero runs in three of his past four starts.
The rest of Wednesday's schedule »
BASEBALL TONIGHT ON THE AIR
WEDNESDAY
10 p.m. ET on ESPN
Host: Steve Berthiaume
Analysts: Bobby Valentine, John Kruk, Chris Singleton
12 a.m. ET on ESPN
Host: Steve Berthiaume
Analysts: Chris Singleton
WEB GEMS LEADERBOARD

This season, "Baseball Tonight" will be tracking Web Gems. Points will be calculated by awarding five points for the night's top defensive play, four points for second, three for third, two for fourth and one for fifth. Scoring will be based on fan voting of the previous night's gems (from the last "Baseball Tonight" each night).
TUESDAY'S BEST AND WORST
BEST
Mike Pelfrey, RHP, Mets

Pelfrey
The Rockies' Ubaldo Jimenez was good … again. Pelfrey was better. The Mets' righty won the duel with Jimenez in Colorado's 1-0 win. Pelfrey tossed seven shutout innings, allowing four hits in his 122-pitch effort, a performance that denied Jimenez of his 18th victory and instead saddled him with his third loss.
---
WORST
Freddy Garcia, RHP, White Sox

Garcia
Garcia didn't set a very good tone for the series for the White Sox. He lasted only 2 1/3 innings in the opener, allowing eight hits, six runs and three homers as the Twins took over sole possession of first place in the AL Central with a 12-6 win.