Red Sox still trying to hang around playoff race
The Red Sox were one blown save away from sweeping the Blue Jays, but if we've observed anything about this team throughout the season, it's resiliency. When
Kevin Youkilis
underwent season-ending surgery on his right thumb, a lot of people counted the Red Sox out. There's still a lot of baseball left to be played, but how have the Red Sox managed to hang on despite enough injuries to fill an entire hospital floor? One thing that might be overlooked is the advantage they have playing at Fenway Park. I know how tough it is to play in that ballpark. It definitely gives you an edge if you're familiar with its quirky dimensions. And Boston will have a nine-game homestand there after this weekend set in Texas. The other added boost of next week's home stretch? The Red Sox should be getting
Dustin Pedroia
back on the field. He'll add some consistency to their lineup. Plus, there's no doubt he's the type of player who can energize a team.
[+] Enlarge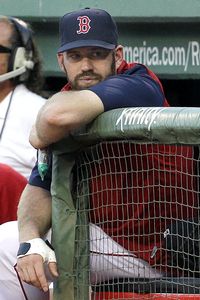 AP Photo/Elise AmendolaKevin Youkilis is done for the year. The Red Sox, though, are fighting on without him.
You also have to remember that the Red Sox have a bunch of guys playing for something.
Mike Lowell
still feels he has a lot left. That's why he preferred to be dealt to a team that could offer him a consistent role in the lineup. Now, it seems as though the best move the Red Sox made was not moving Lowell. He has wasted no time in the absence of Youkilis in proving his worth. Losing Youkilis is tough, but when you're substituting him with guys like Mike Lowell and
Victor Martinez
… well, it could be a lot worse. And let's not forget about
David Ortiz
. Big Papi was counted out at the beginning of the year. There wasn't one conversation that didn't involve his name and the word "slump" in the same sentence. The truth is that the older you get as a major league player, the harder you have to work to make things happen. He had to get back to the basics and realize that he's been on the outs before and he was able to come back. It happened when he was with the Twins. Minnesota designated him for assignment and the Red Sox picked him up. He had a chip on his shoulder back then, and I think he has that attitude back. The underdog role involves a lot less pressure, and it's clear that the Red Sox thrive on this idea of chasing something. Terry Francona has a lot to do with it. With him at the helm, there's this competitive nature and bulldog mentality that they're going all the way down to the wire, no matter what. This team just oozes a never-say-die attitude and that stuff is contagious -- whether you're an established player or a rookie. Everybody knows how good a healthy
Boston Red Sox
team can be, so the fact that the Sox are still contending in a competitive division is a little intimidating. And that could impact the teams in front of them.
Eduardo Perez is an analyst for "Baseball Tonight."
Touch 'Em All

Who went deep? Keep track of all the home runs hit each day on "Baseball Tonight" and the Baseball Tonight Clubhouse page. For more, check out the Home Run Tracker page.
| NAME | HR | OPP | SITUATION | Pitcher |
| --- | --- | --- | --- | --- |
| Pat Burrell, SF | 11 | CHC | Bot 4: 2-1, 0 Outs. None on. | Wells |
| Pat Burrell, SF | 12 | CHC | Bot 5: 2-0, 1 Out. Grand Slam. | Wells |
| Casey McGehee, MIL | 18 | ARI | Bot 5: 0-0, 1 Out. None on. | Lopez |
| David Ortiz, BOS | 25 | TOR | Top 5: 3-2, 1 Out. None on. | Mills |
| Jose Bautista, TOR | 36 | BOS | Bot 9: 3-2, 0 Outs. None on. | Lackey |
Friday's Best Matchups
Phillies at Mets, 7:10 p.m. ET


It's been a volatile few days for the Mets, who now welcome the Phillies for the weekend. Cole Hamels has yet to win in the second half, but it's not really his fault. He is carrying around a 2.38 ERA in five starts after the All-Star break. R.A. Dickey was roughed up by the Phillies in his most recent start, giving up six runs and two homers in only three innings of work.
---
Dodgers at Braves, 7:35 p.m. ET


Hiroki Kuroda has a 3.65 ERA, but still is walking around with 10 losses, fourth-most in the NL. Braves starter Tim Hudson has won his past four starts, allowing two total runs in those outings, which spanned 28 2/3 innings. He has lowered his ERA to 2.24, good for third in the NL.
---
Padres at Giants, 10:15 p.m. ET


The Padres will try to avoid what happened to the Reds earlier in the week, when Cincinnati struggled in a statement series against the Cardinals. San Diego's Clayton Richard has given up 15 hits and nine runs in nine innings in two August starts. Jonathan Sanchez is 0-2 in three starts against the Padres this season.
The rest of Friday's schedule »
BASEBALL TONIGHT ON THE AIR
FRIDAY
10 p.m. ET on ESPN
Host: Steve Berthiaume
Analysts: Eduardo Perez, J.P. Ricciardi
12 a.m. ET on ESPN
Host: Steve Berthiaume
Analysts: J.P. Ricciardi
WEB GEMS LEADERBOARD

This season, "Baseball Tonight" will be tracking Web Gems. Points will be calculated by awarding five points for the night's top defensive play, four points for second, three for third, two for fourth and one for fifth. Scoring will be based on fan voting of the previous night's gems (from the last "Baseball Tonight" each night).
THURSDAY'S BEST AND WORST
BEST
Johan Santana, LHP, Mets

Santana
Santana told Mets manager Jerry Manuel before the game he had no intention of coming out against the Rockies. He didn't. Santana tossed a complete-game, four-hit, 10-strikeout shutout in a 4-0 win against the Rockies, giving a Mets bullpen depleted by the legal troubles of Francisco Rodriguez a rest. The lefty has not allowed a run over his past two starts.
---
WORST
Jonathan Papelbon, RHP, Red Sox

Papelbon
Papelbon couldn't close against the Blue Jays. He recorded only one out, but gave up four hits, one walk and three runs as Toronto scored four times in the ninth to turn a 5-2 Boston lead into a 6-5 Red Sox loss. It was Papelbon's sixth blown save of the year.