Jim Thome and the Twins are a perfect fit

By John Kruk
ESPN
Archive
Jim Thome
's worth to the Twins comes in many forms, because, simply, he's done exactly what Minnesota brought him in to do. And on Tuesday night, all he did was erase a one-run deficit in the bottom of the 10th with a game-winning, two-run shot against the White Sox. So, yes, along with demonstrating leadership, mentoring young players and checking his ego at the door, he's also contributed 17 homers in 209 at-bats this year. Of course, none was bigger than the one he deposited well over the right-field wall against the White Sox's
Matt Thornton
late Tuesday at Target Field.
[+] Enlarge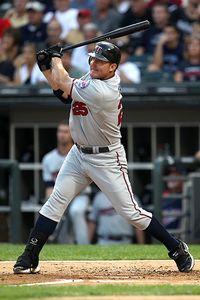 Jonathan Daniel/Getty ImagesJim Thome is the consummate professional, so he's fit in perfectly in Minnesota.
Twins manager Ron Gardenhire has gone out of his way to rest Thome to keep him healthy, and Thome has rewarded him for it. And the latest reward, against the White Sox, a team that decided this past offseason it didn't want him back, pushed the Twins' lead in the AL Central to four games over Chicago. Keep in mind that the Twins still are without slugger
Justin Morneau
. Thome has had a bad back, so he has to work diligently during therapy to keep himself ready. If you put him out there every day and gave him four at-bats, even though he'd be filling the DH role, I think you'd see Thome's performance eventually dwindle. That's a big reason why Tuesday's game was only his 55th start of the year. But a lot of teams would have panicked and just put him in the lineup every day. Gardenhire knew that wasn't the best decision for the team and Thome. Gardenhire plays Thome when he needs to in order to keep him sharp. He's obviously sharp; his homer finished off a 3-for-5, three-RBI night in the 7-6 win. Instead of fading during these dog days, Thome has raised his average from .258 at the start of the month to .273. If the White Sox stay close down the stretch, don't be surprised if you see a lot more Thome in September. He knows his role, and will gladly step up to the challenge. Anytime you have a home run threat at DH or coming off the bench late in games, you have an instant advantage, whether earlier in the year in interleague games or now, in a pennant race. This one really hurts for the White Sox. They decided not to keep Thome, and they've had a deficiency at DH this year, all while making their division rivals, the Twins, the team they are chasing in the AL Central, stronger. Another part of Thome's value comes from his presence. There are a lot of guys who are great players, but they just aren't approachable, even by their teammates. There's an old cliche: If your daughter could pick someone to marry, you'd want her to pick someone like Jim Thome. It's true, because he's a great person. When you walk in the Twins' clubhouse and you look at
Joe Mauer
and Jim Thome, you would have no idea which one has the chance to be a Hall of Famer. Why? Because Gardenhire upholds a strong stance on egos: Leave them at home. When Minnesota signed Thome last year, I thought it was an excellent pickup because he fits its mantra: Team first, with stats and ego coming in a distant second and third. The Twins really hit a home run when they acquired Jim Thome. And Thome hit a big one for them Tuesday night.
John Kruk is an analyst for "Baseball Tonight."
Touch 'Em All

Who went deep? Keep track of all the home runs hit each day on "Baseball Tonight" and the Baseball Tonight Clubhouse page. For more, check out the Home Run Tracker page.
| NAME | HR | OPP | SITUATION | Pitcher |
| --- | --- | --- | --- | --- |
| Paul Konerko, CHW | 30 | MIN | Top 2: 2-0, 0 Outs. None on. | Baker |
| Pat Burrell, SF | 13 | PHI | Top 1: 1-1, 2 Outs. None on. | Oswalt |
| Hunter Pence, HOU | 17 | NYM | Bot 1: 2-1, 0 Outs. 2 on. | Chamberlain |
| Curtis Granderson, NYY | 12 | DET | Bot 2: 2-1, 0 Outs. None on. | Verlander |
| Casey McGehee, MIL | 19 | STL | Top 3: 2-2, 2 Outs. 1 on. | Garcia |
Wednesday's Best Matchups
Rangers at Rays, 1:10 p.m. ET


The Rays' James Shields had a good start to the month, tossing 7 1/3 shutout innings against the Yankees. It's gone downhill for him since. Shields has given up 19 hits and 12 runs in nine total innings of work over his past two starts. Derek Holland makes just his fifth start of the year and sixth appearance of the season for the Rangers.
---
Giants at Phillies, 7:05 p.m. ET, ESPN


Giants starter Matt Cain has been equally tough on righties and lefties. Right-handers are hitting .229 against him this year; lefties three points worse at .226. Joe Blanton keeps racking up no-decisions; he has seven since June 24.
---
White Sox at Twins, 8:10 p.m. ET


The White Sox try to recover from Tuesday's tough, 10-inning loss by sending Gavin Floyd out to the mound against Francisco Liriano. Floyd had his three-game winning streak snapped his last time out … by the Twins. Liriano beat the White Sox his last time out, and he is 5-0 over his past six starts.
The rest of Wednesday's schedule »
BASEBALL TONIGHT ON THE AIR
WEDNESDAY
12 a.m. ET on ESPN2
Host: John Anderson
Analysts: Buster Olney
WEB GEMS LEADERBOARD

This season, "Baseball Tonight" will be tracking Web Gems. Points will be calculated by awarding five points for the night's top defensive play, four points for second, three for third, two for fourth and one for fifth. Scoring will be based on fan voting of the previous night's gems (from the last "Baseball Tonight" each night).
TUESDAY'S BEST AND WORST
BEST
Jim Thome, DH, Twins

Thome
Thome turned a loss into a win with a two-run shot off the White Sox's Matt Thornton in the bottom of the 10th inning, giving the Twins a 7-6 win and a four-game lead over Chicago in the AL Central. Thome is hitting .346 against the White Sox this season.
---
WORST
Chris Ray, RHP, Giants

Ray
Barry Zito put the Giants in a hole, but it got really ugly when Ray came in. He did not get an out, but gave up three hits, four runs and a walk as the Phillies pulled away for a 9-3 win at Citizens Bank Park.