Rays have become Evan Longoria's team

By Tim Kurkjian
ESPN
Archive
Two years ago, Evan Longoria went to the opening of a movie with a friend and paid for his ticket with a credit card. "On some credit card purchases," he said, "they only use the first three letters of your first name. So my first name comes out on the receipt as Eva." As he sat waiting for the movie to start, a stranger came to his seat, stared at him with a look of disappointment. "I thought Eva Longoria was sitting here," she said. Evan said, "Sorry, she's not."
[+] Enlarge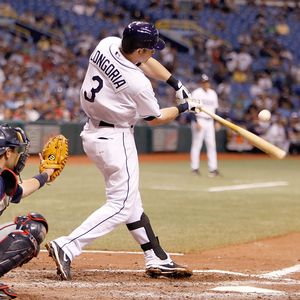 J. Meric/Getty ImagesEvan Longoria had a big series when the Rays needed it this week against the Rangers.
Soon, the few who don't know Rays third baseman Evan Longoria, will. He is 24 years old, and will turn 25 on what could be the second game of the 2010 playoffs. The Rays will be in the playoffs in part because of Longoria, who is heating up at the right time. In the five games leading up to Thursday's against Oakland, all victories, he has gone 10-for-21 with one homer and eight RBIs, including three hits and four RBIs Wednesday when the Rays completed a sweep of the Rangers. Longoria had been laboring, especially in the power department, before his surge last week. But since that big set against the Rangers, his average is up to .293, he has 16 homers, 80 RBIs, 39 doubles and 15 steals in 18 attempts. He is slugging .504. Last year, he won a Gold Glove. The only third basemen to win one at a younger age are Brooks Robinson, Scott Rolen and Eric Chavez. Longoria is playing at that level again. No third baseman makes the barehanded play on the bunt better than he does. Longoria is finishing only his second full season in the major leagues, but he has already emerged as a leader on the young Rays. When center fielder B.J. Upton loafed while running after a ball in the outfield earlier this season, it was Longoria who got in his face immediately after the Rays returned to the dugout. When Carl Crawford leaves via free agency after the season, the Rays are going to need Longoria to lead even more. That's why, a few weeks into his major league career, the Rays signed Longoria to a six-year deal. None of this should come as a surprise. The Rays knew what they had when they selected Longoria with the third overall pick in the 2006 draft out of Long Beach State. "I saw him play a bunch of times in college,'' one scout said, "and it was obvious to anyone that saw him that he would be not just a good major league player, but a great one.'' Here's how good he is: The Rays have a pitching machine that shoots out tennis balls up to 120 mph. Some of the balls have a black mark on them, some have a red mark. Longoria can crank the machine up to 100 mph, then can call out what color is coming to the plate. When he sees a black ball, he pulls it. When he sees a red ball, he hits it to the opposite field. Teammate Carlos Pena was asked how Longoria did that. He smiled and said in amazement, "I have no idea."
Tim Kurkjian is a senior writer for ESPN The Magazine and is an analyst for "Baseball Tonight."
Touch 'Em All

Who went deep? Keep track of all the home runs hit each day on "Baseball Tonight" and the Baseball Tonight Clubhouse page. For more, check out the Home Run Tracker page.
| NAME | HR | OPP | SITUATION | Pitcher |
| --- | --- | --- | --- | --- |
| Miguel Cabrera, DET | 31 | NYY | Top 1: 3-2, 2 Outs. 1 on. | Hughes |
| David Ortiz, BOS | 27 | LAA | Bot 4: 2-1, 1 Out. None on. | Santana |
| Gaby Sanchez, FLA | 13 | PIT | Top 6: 1-2, 0 Outs. 2 on. | Maholm |
| Pablo Sandoval, CHW | 9 | PHI | Top 4: 0-0, 0 Outs. None on. | Hamels |
| Robinson Cano, NYY | 24 | DET | Bot 6: 3-1, 2 Outs. 1 on. | Bonine |
Friday's Best Matchups
Blue Jays at Red Sox, 7:10 p.m. ET


After a run of four consecutive losses, Jon Lester has won two in a row. He did not allow a run in victories on the road against the Rangers and Yankees, lowering his ERA to 2.80. Blue Jays starter Brett Cecil was roughed up by the Angels in his most recent start.
---
Giants at Cardinals, 8:15 p.m. ET


After a run of four consecutive wins, all of which came on the road, the Giants' Madison Bumgarner is 0-2 with a pair of no-decisions over his past four starts. The two no-decisions, however, came in games the Giants ended up winning. Jake Westbrook is 1-0 in three starts since joining the Cardinals.
---
Reds at Dodgers, 10:10 p.m. ET


Homer Bailey pitched a gem in his spot start for the suspended Johnny Cueto on Sunday, tossing six shutout innings in a 2-0 win against the Marlins. He did not permit a walk in the win, struck out four and scattered three hits. After starting the year 3-0, Carlos Monasterios has not won since June 7, going 0-3 as he's bounced from the rotation and the bullpen.
The rest of Friday's schedule »
BASEBALL TONIGHT ON THE AIR
FRIDAY
12 a.m. ET on ESPN2
Host: Steve Berthiaume
Analysts: Dave Winfield
BASEBALL TONIGHT ON TWITTER
WEB GEMS LEADERBOARD

This season, "Baseball Tonight" will be tracking Web Gems. Points will be calculated by awarding five points for the night's top defensive play, four points for second, three for third, two for fourth and one for fifth. Scoring will be based on fan voting of the previous night's gems (from the last "Baseball Tonight" each night).
THURSDAY'S BEST AND WORST
BEST
Paul Konerko, 1B, White Sox

Konerko
The White Sox needed a win against the Twins, and Konerko made sure they got it. Konerko went 5-for-5 with a double and a homer as part of a 21-hit White Sox attack in the 11-0 win. Konerko drove home four runs and was one of five Chicago players with at least three hits in the game.
---
WORST
Josh Hamilton, CF, Rangers

Hamilton
The Rangers suffered a fourth consecutive loss, and this one fell on the offense. Texas was shut out in a 4-0 defeat by the Orioles. Hamilton went hitless for the third straight game, an 0-for-11 run in two losses against the Rays and this one Baltimore.